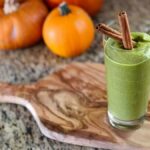 Green Pumpkin Smoothie
Selling your kids on the idea of a green pumpkin smoothie might seem like a long shot – until they realize that this tasty green smoothie is just like a slice of pumpkin pie in a glass! The dash of cinnamon combines with the oats, pumpkin seeds, and pumpkin puree to create a fall festival of flavors – while the other ingredients add enough nutrition that you won't feel guilty serving it to your kids again and again!
Combine the almond milk, ice, and spinach in a blender, and blend until smooth. Add the remaining ingredients and blend again. Serve cold.