Wanna See my Skin Cancer??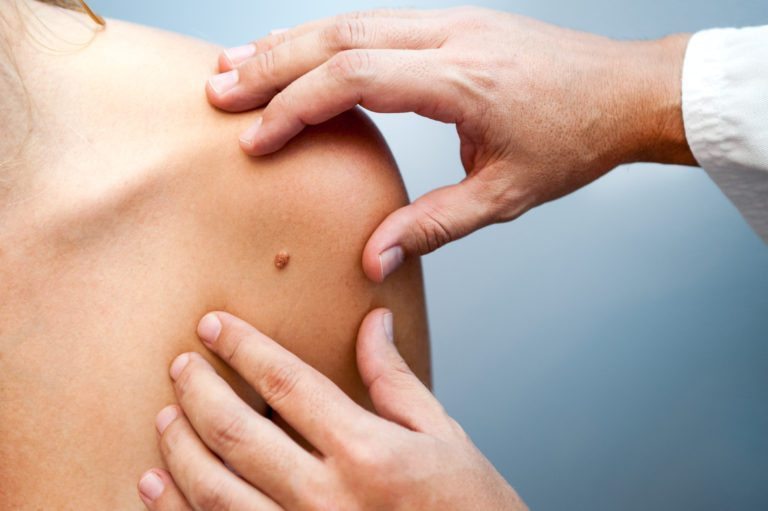 Why you are your own best expert on health, treatment, and even skin cancer.
Recently, on Facebook, I asked if anyone wanted to see my basal cell carcinoma that fell out 3 days after I applied black salve topically AND the hole in my chest that it left. (Black salve is an escharotic that is touted as cell selective, kills only aberrant cells, and my family has used it successfully on skin cancer for generations.)
I realized that not everyone might want to see this, so I asked who wanted to see on both my personal page and the GreenSmoothieGirl fan page.
I said that if 50 people said yes, I'd post the pictures. I got almost 200 yesses on both pages, so…post them I did.
And promised that after I treated it with Sangre de Drago (another plant-based compound to avoid scarring), I would show a followup photo, after it healed.
A firestorm of controversy then erupted, with 170 shares on that post, and hundreds of comments. At least a dozen people said, "Yes, I have black salve," or "I've used black salve successfully," or "My father used it successfully." That kind of thing.
In 24 hours, my "What I did about my Skin Cancer" video I made last summer, got another 2,500 views.
(See Robyn Openshaw on Facebook—you can't "friend" me due to the 5,000 limit, but you can "follow," and you can see the post on 4/6. Oh, and "like" Green Smoothie Girl while you're there—no limit there!)
But, as is common when you're dealing with hundreds of people, I had a couple of haters.
(Don't worry, those of you who are concerned about my feelings—it's okay. I'm used to it. Plus it gives me something to write about.)
A few ladies told me I was irresponsible, on "shaky legal ground." One told me that there is no way black salve could get rid of skin cancer (if so, doctors would use it!). One lady told me that only a doctor can tell me if I have skin cancer, and even then, only with a biopsy—therefore, it's not cancer.
On my YouTube video where I shared similar information last summer (without the graphic photos), I got a similar hater, telling me she was reporting me to the FDA.
(Did you know every member of the FDA owns a lot of stock, or gets 6 figures in consulting fees from pharmaceutical companies, and that many of them have worked for Pharma? The same group of people bounce back and forth between FDA positions and positions with drug companies. It's the classic case of the fox watching the henhouse.)
I wasn't giving advice. I want to say, for the record, that I never talk about "cures." I am very precise with my words, and I said I am not a doctor and am not giving medical advice. I am simply showing what I, my mother, and my grandmother have done for generations, with skin cancer and pre-cancers. I said that what I did is not for everyone. (Also, I don't sell black salve or benefit in any way from my sharing my story on Facebook, or here.)
Back to my "I Love Doctors, but . . ." blog series. Sorry it took me a minute to get back to this series…
Doctors aren't perfect. They don't know everything. They pronounce death sentences too often on people who then get resourceful and turn everything around with means other than drugs and surgeries.
Are they bad people? Stupid? Careless? Far from it. They're simply human, and like accountants, hotel managers, and waitresses, they make mistakes. (Why would we expect any different? We've all seen accountants and waitresses make mistakes.) Doctors don't know everything.
Why am I saying all this? Because the idea that I'm "irresponsible" for diagnosing my own basal cell carcinoma, and then treating it the way my family has done successfully for generations, comes from our indoctrination by the medical profession. It goes like this:
You don't know anything. You don't know your body. You need me to run tests on it and tell you what's wrong. Then I give you a means whereby I will cut it, remove things, rearrange things, or give you some chemicals to eat to fix it.
Does this have its place? Of course. (There is no essential oil or meditation or green juice that could have solved my problem in 1994—it needed a skillful surgeon and NOW. And, doctors have powerful diagnostic tools, lots of experience, and often, they can figure out what's wrong with you.)
However, it's far from irresponsible for me to learn all I can about cancer, what the different types are, what my options are, and make choices for myself. In fact, I might make the case that it's foolish not to. In some folks' paradigms, it's crazy to think you know anything about your own health. In my own paradigm, it's crazy to just consult a doctor and blindly do whatever s/he says. My health, and even my life, is in the balance. (Remember, docs make mistakes, because they're human and know everything—just like accountants and waitresses do. Their profession doesn't have all the answers, either.)
I wouldn't tell you or anyone to self-diagnose and self-treat a malignancy. I have done years of study on this subject, and I'd been to a dermatologist 7 years ago and did their burning treatment TWICE, which was ineffective because all the pre-cancers came back and worse.
But I would suggest to you that you are capable of learning. Of discernment. Of critical thinking. You are your own best expert. This is what I taught my kids. Think, study, learn, grow, challenge yourself—these are your best tools in life.
This doesn't apply to just medical knowledge or knowledge of your body—it applies to everything! My best friend, Kristin, and I tell women going through divorces this, above all, from our own experience:
"Get the best attorney! But prep her completely before any mediation or court appearance, because she has many clients and she will FORGET the details of your case. [Kristin learned this the hard way!] Only YOU know everything about your case, and YOU could argue it best if you had the deep knowledge of the law. So don't throw it all in your attorney's lap and assume a positive outcome. Manhandle it, be highly involved, write the first drafts of everything to make sure all the details are there—then let your attorney do her thing to it. Then review carefully, ask detailed questions, and again, prep her before any court appearance!"
It's no different with your medical care. With most MD's, you have to acknowledge that their training is limited to pharmacology and medical technology and surgery. They cut, they use machines for diagnostics and some treatments, and they treat with chemical drugs. You've got 10 minutes with them, and before you, they were thinking about someone else's case. You, however, think about and research your own health for many, many hours.
There's a whole world out there of other ways to treat symptoms or even disease. Unless they've sought out additional training beyond medical school, and they're doing unpaid work with no medical code to bill to, your doctor doesn't know any more about nutrition than the average person on the street. Let alone herbs, essential oils, energy work, and a host of other alternative treatments. You are your own best advocate, and you know a lot about your body and your symptoms.
Everything on the internet isn't true. I hope you don't chase every testimonial as if it's published research.
That said? Most published research, even the journals and the universities themselves, are funded by billion-dollar-profit industries such as Big Pharma and Big Ag (processed food and meat/dairy). Your critical thinking skills are needed now more than ever. Doctors quote their own journals, and the research published there is often cherry-picked, biased, flawed.
Just don't turn your brain off and mindlessly say, "My doctor says……." with no knowledge of your own.
It's irresponsible, not responsible. Be savvy and educated and learn everything you can about wellness, illness, and treatment options. You'll feel empowered and far less fearful about outcomes, the more you know!
I love learning from doctors, and I'm glad we have them for serious conditions, solid advice, and their deep understanding of human physiology.
In fact, I'm going to have a few of my MD friends write guest blogs on subjects I think will be of great value to you.
First up, my friend, Tony Youn, MD, an NYC board-certified plastic surgeon in New York City, just wrote the amazing book, The Age Fix: A Leading Plastic Surgeon Reveals How to Really Look 10 Years Younger. He's a regular on the Rachael Ray Show, The Dr. Oz Show, and The Doctors, sharing ways to look younger with or without surgery. He's also the author of the bestselling memoir In Stitches. In my next blog post, he shares three FOOD SWAPS that will slow your aging process!
Then, my friend, Tami Meraglia, MD, will share her thoughts with us. I've asked her to write about the controversy about whether we should be in the sun or not. And what about sunscreens? And she'll tell us about a do-at-home Vitamin D test and why we should all test regularly. Plus, a nontoxic but effective formula she prescribes patients for pre-cancers and less-serious skin cancers. Dr. Tami is a former professional ballerina, now a double board-certified doctor, and author of The Hormone Secret.
Stay tuned!
Posted in: Tools & Products