The 10-10-10 Green Smoothie Guide shows you how to ditch 10 pounds by ADDING this 10-minute delicious meal habit each day! Keep it up, and add 10 years to your life by getting 1000% more nutrition and fiber daily than the average American.  And you likely have the ingredients at hand right now!
Print this infinitely adaptable chart for simple ratios, so you can mix-and-match liquid bases, greens, fruits, superfoods, and proteins.
Tape this inside your kitchen cupboard. Share with a friend! Print an extra for shopping.
Want more super-charged health shortcuts?
Get HALF OFF my GSG Genius Guides pack! FREE SHIPPING!
All are printed in full color and laminated to last! Grab the set for just $14.95, shipped to you for free--hurry, before it is gone!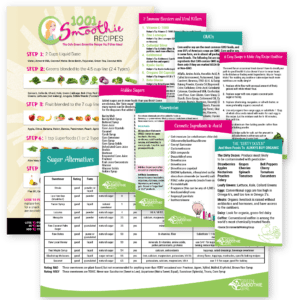 Sugar Alternatives Chart:

 The best alternatives to sugar, and how to use them!

1,001 Green Smoothie Guide:

Create hundreds of unique green smoothies, step-by-step!

Build-A-Meal Cheatsheet:

999 plant-based, no-recipe meals using what's already in your fridge and pantry!

Smart Shopper Wallet Card Set:

Easy store reference for food and supplements:

GMOs

:

all the genetically modified ingredients to avoid!

Cosmetic Ingredients to Avoid:

know what's in personal care items!

7 Immune Boosters and Viral Killers

:

knock down infections!

Hidden Sugars:

what other names for SUGAR hide in

ingredient lists!

Neurotoxins:

don't purchase products with these ingredients!

6 Easy Swaps:

my six "magic tricks" for making any treat recipe healthier!

Dirty Dozen and Clean 15:

which foods to buy organic . . . and when to save your money.
Become an instant health expert with TEN laminated "cheat sheets!" Easy reference while shopping or cooking! FREE SHIPPING!