Ohhhhh, I'm so sad you missed our Switzerland trip last month. I couldn't stand to leave–so I, and three others, extended our stay for 3 extra days.
We go there annually and we have a completely amazing experience. Check out the little videos I did with those who came, and the written testimonials of many of my GreenSmoothieGirl friends who have come for the past 5 years.
Oh, and watch my little video standing out on the lunchroom patio, telling you what I've learned from spending so much time in Switzerland, and about the new amazing DIAGNOSTICS (your heavy metal levels, noninvasive and highly accurate test, WOW), and detoxifying, relaxing treatments we get all week, and you'll work with two European M.D.'s specialized in detoxification, homeopathics, and natural healing.
Because I'm already starting today to tell you about our trip next June 4-11. I promise, it WILL sell out. And the price is so very special. I didn't find a single clinic in Mexico, where the accommodations are one- or two-star…with a price like this.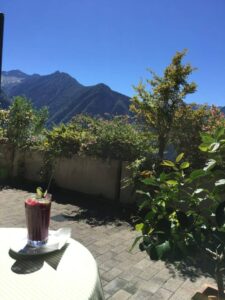 Not that it's cheap. It's not. Just…..for what you GET? Many people spend this much on a cruise. To gorge themselves and come home feeling hungover, bloated, and needing a vacation from their vacation.
What if your vacation was something that you came home from just soaring, feeling lighter, healthier, cleansed…and with a deep bonding experience with folks all over the U.S. and Canada.
(Finally, a way for me to connect with some of my Canadian friends! Every year one or two come, and I'm so glad, since we can't offer our products in Canada. That dang tax.)
We eat three meals together and…well, why am I WRITING about this? You've got to just CLICK so you can SEE for yourself.
I have hundreds of photos, but I've shared a few special ones with you here, plus the video I really want you to see. I want YOU to come. Bring hubby or daughter or best friend.
NO ONE, and I mean NO ONE, has ever left here without a fabulous experience, feeling rested, and well, and nourished in body, mind and spirit (to quote "Our Dear Squire Sue", the only other Utahan on the trip, and that's how the staff referred to her, which we all picked up, and the name stuck!).
Anyway, there's nothing like this experience on Earth. Please do come with me. Your liver needs a detox, I promise. It's a weird toxic place we live in, and we all need detoxification. I'll teach a few classes, you'll get lots of scheduled treatment, and you'll eat the most fabulous food you can't believe is detoxing you. (Oh, but it is. 100% whole foods. Heaven on Earth.)
Ah, but I keep writing, when this is a "see" more than a "read." Paracelsus al Ronc is my home-away-from-home…..and I'd love to spend some quality time with you, so see you next June! Put down your deposit and we'll hold your room. We have only 15! Do that, and send your application to the clinic, and we're set to go. The remainder will be due next April 1.
To Your Health!