Combine nature's best anti-inflammatories in one delicious, pain-busting SuperTonic! You're going to love my amazing recipes for detoxing, energy boosting, taming inflammation, and getting restful sleep!
Want more super-charged health shortcuts?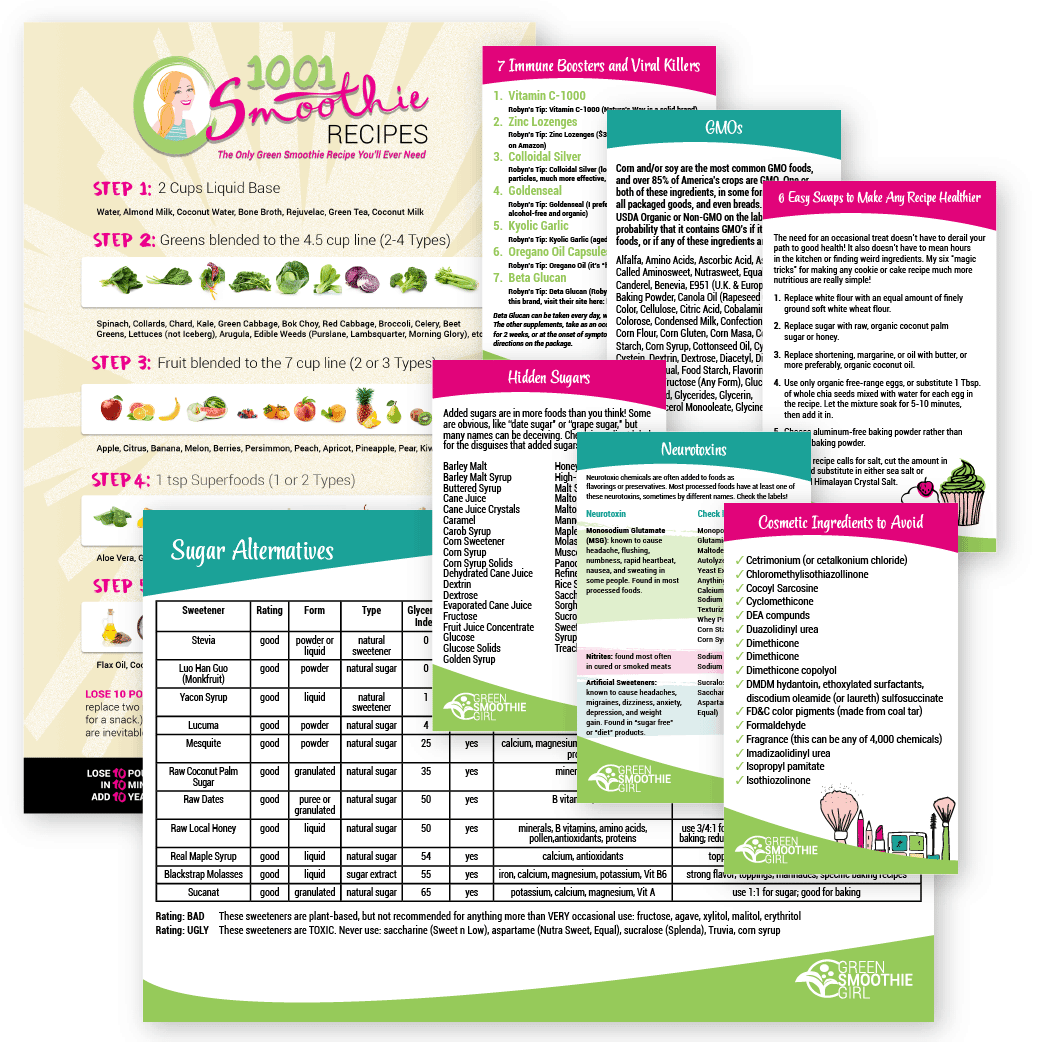 Take advantage of my ONE TIME OFFER for HALF OFF my $19.95 GSG Genius Guides pack! Stick them in your purse, wallet, kitchen--anywhere you want! Become an instant health expert with these in-hand "cheat sheets" for easy reference while shopping or cooking! Check out what you'll get for just $9.95:
Sugar Alternatives Chart: printed and laminated, ready to tape into your cupboard or take to the store. An easy, one-page tool on the good, bad, and ugly in sweeteners--and how to use the good ones instead of sugar!
1001 Green Smoothies Guide: the last green smoothie recipe you'll ever need! Tape this laminated master recipe mixer inside your cupboard and see how easy it is to create hundreds of unique green smoothies from this step-by-step guide!
GMOs: all the genetically modified ingredients to avoid
Cosmetic Ingredients to Avoid: know what's in personal care items!
7 Immune Boosters and Viral Killers: how I knock down viral and bacterial infections at my house
Hidden Sugars: what other names for SUGAR hide in ingredient lists
Neurotoxins: don't purchase products with these ingredients on the list!
6 Easy Swaps: my six "magic tricks" for making any treat recipe healthier!
Laminated Smart Shopper Wallet Card Set: These will last forever in your wallet, and make for easy store reference for food and supplements
Grab this set of resources during this one-time HALF OFF offer--when you click away, it's gone!