Robyn and Emma save a starving college student from marshmallow overdose
My daughter, Emma, is 19 years old and a sophomore at SUU, about 3 hours south of our home. She texted me recently about her friend Aaron:
"Mom! Aaron has no money, so he is eating only what's in his cupboards till the semester ends. He has had MARSHMALLOWS for breakfast, lunch, and dinner for the past 2 days!"
I was headed south that night, for a hiking weekend with my girlfriends in Zion's Canyon. So I proposed an intervention. I said:
So my girlfriends and I raided Aaron's apartment, with Emma, that night, GREEN SMOOTHIES TO THE RESCUE! This is a VERY low-quality cell-phone video of the scene. It isn't worthy of the GSG YouTube channel, so we've marked it private, and you can watch the silly intervention we staged in Cedar City, Utah, if you can forgive the low production values!
College students may be broke. But they need our love and they need some good food. After we made this video, I took Emma and Aaron to get a real meal at Café Rio. Emma and I always get vegetarian salads with lots of black and pinto beans and chopped greens and pico de gallo, hold the fried thingies, please, and substitute a whole-grain tortilla.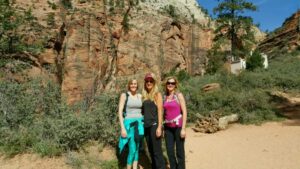 After we saved a starving college student from marshmallow overdose, my girlfriends and I headed on to Zion's Canyon where we hiked Angel's Landing. I'd done it before and wanted my friends to see the beautiful views. It's a 3-hour climb where the last ½ mile you have to pull yourself up with chains mounted in the rock, and 6 people have died in the last 10 years because it's narrow and scary. We lived to make another green smoothie and tell this story.
"Em, I'll be there this evening–tell Aaron GOOD FOOD IS WORTH THE MONEY. I'll be there soon!"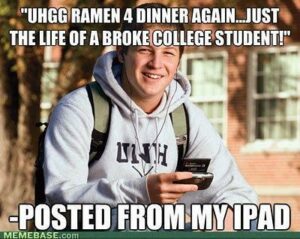 I ate Top Ramen and bananas, for months, my own sophomore year of college. I was falling off the sidewalk as I'd walk to school, with terrible vertigo and I kept getting sick. I was also having terrible headaches. Now I know it was because of all the MSG (monosodium glutamate, a neurotoxin in many seasonings and salad dressings and packaged foods like Doritos) in the Top Ramen seasoning packets, and I would never eat that now. Sure, Top Ramen costs $0.20 each ($0.10 back then), but the savings weren't worth the lost days spent in bed, ill or with headaches, and the money I spent at the Student Health Center trying to figure out what was wrong with me. (The neurological symptoms are classic of people who eat MSG or aspartame or other "excitotoxins.")
If you ended up with multiple sclerosis from nerve damage from years of a crappy diet, would the savings be worth it?
Posted in: Uncategorized
No comments found, but you can be our first!