Live Detox starts May 4! Here's what a detoxer said about her experience…..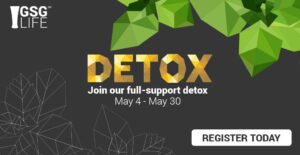 One of our amazing GSGLife Founding Instructors, Natalie Hadley of Ogden Utah, introduced her friend Shelly to the GreenSmoothieGirl Detox in December.
Shelly shared an amazing story that I thought you would enjoy reading. If you're like me, before you undertake a signification cleanse program, you're terrified! (I wanted to do one for years, before I finally did it. This was long before I developed the GSG detox, of course, which is fully supported and anyone can do it. It's challenging, but not scary, like the one I did 20 years ago, when I ate nothing but veggie juice, and bentonite clay and psyllium husk powder in water, for 3 weeks!)
Natalie is again supporting friends in our upcoming May 4 Detox and you can see her at myGSGLife.com/NatalieHadley or email her at sunshineofwellness@gmail.com.
We do a supported Detox just 3 times a year, so join us! The average person loses 12-13 pounds and enjoys deep cleansing of the liver, kidneys, and gall bladder. Watch my short video about it HERE.
This is Shelly's story:
What a great start to 2015! My sister and I were talking at the beginning of this year. She told me how her friend, Natalie Hadley, had told her about a detox program she was going to do. My sister and I had for several months compared aches and pains we have been having, as well as lack of energy. As she shared about the detox with me, I told my husband and 25-year-old daughter about it.
My husband was just going to start a biggest loser contest at his work. As we talked about it, we were all at a mental state where we were ready to go for it, so January 3 started our new adventure—GreenSmoothieGirl Detox #1!
I probably ought to tell you a bit more about my family. My husband is Samoan and so a meal was not complete without meat, and it is heavily salted to make it taste even better. For family gatherings, often four or five meats are common and maybe one salad. Sugar has always been my weakness, so I have battled weight for many years. This detox was definitely a big change for all of us.
I must admit the first couple of weeks when I was using our Ninja blender, our vegetables were not blended as much as we would like and it made for some interesting smoothies—but we stuck with it. When my daughter bought us a Blendtec, we all celebrated.
After the first couple of weeks of the detox, my husband commented on how he felt his hands weren't as swollen and joints didn't hurt as much. We started going on more walks, and walking farther each time. We stuck with the detox for the whole 26 days and saw some great changes.
After the first detox was over, we decided to do the 31 day green smoothie challenge and try to eat more whole food, plant-based meals. We stuck with this then realized in March that my husband had just about 26 days to go before his contest was over at his work. We decided to do the detox one more time! Doing this the second time, we realized what we were getting into, so our attitudes were even better.
Our daughter in Florida also did it with us the second time, and it was great to share our successes with each other. Eating healthy has become a good topic for all of us to visit about. We are sharing recipes and good tips with each other.
When my husband weighed in at the end of his contest, he had lost 48 pounds (16.9% body fat)! And won the biggest loser contest! I lost 37 pounds and my daughter lost over 30 pounds! Not only did we lose this weight, but we have all felt better with more energy. We are exercising more. My daughter has several times said, "Thank you, Mom, for doing this for us." We all did it together–it definitely was a team effort!
Another real benefit is that before we never used to have breakfast. Now the three of us get up together and have our green smoothie as well as fix our lunch bags before we go to work. It is nice to spend this time together in the morning and start our day out right.
I am starting a new hobby this summer of gardening, and I look forward to trying new recipes with our garden vegetables and herbs. We are heading to Samoa in October, and my husband has already said that he wants to do one more detox in September before we go.
Thanks so much to Natalie Hadley for her great classes, encouragement and willingness to share with us. Thanks to Robyn Openshaw for sharing all of this information with us and for all the research that she has done. I am so excited for the 12 Steps to Whole Foods Workshop this Saturday, and to continue to develop healthy habits.
[Note: Robyn is teaching the local GSGLife Instructors her 12 Steps to Whole Foods course, this Saturday, and it is sold out and wait-listed. However, she is teaching it to ANYONE who wants to attend, Saturday, June 6, get tickets HERE!]
Life is great!
Posted in: 12 Steps To Whole Food, Detox, Green Smoothies, Nutrition, Reader Letters, Testimonials, Weight Loss, Weight Management
No comments found, but you can be our first!