I'm back from Switzerland, and I hope you come, next time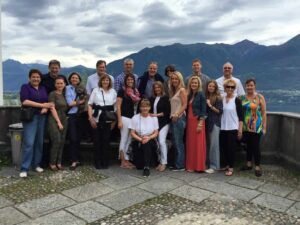 If you've been following GreenSmoothieGirl for a while, you might know that every 6 to 12 months, I go to my "home away from home," the lovely the Swiss Mountain Clinic (formerly Paracelsus al Ronc) in the southern Swiss Alps.
I discovered them on a research tour I did, for 3 ½ years, looking for where to send people who want to opt out of "traditional" (chemo/radiation) cancer treatments in favor of something that detoxifies and rebuilds immunity.
It's the most all-inclusive, beautiful, skilled, diet-focused, medically supervised place I found, on several continents. But imagine when I discovered that they do 7-day liver detox program, or a 7-day heavy-metal detox program. (All of us, and I mean ALL of us, need both of those.)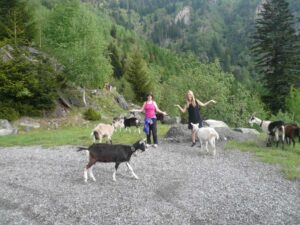 I've led quite a few trips to the Swiss Mountain Clinic, and I just got back from having a blast with the folks in these photos. And the goats in the photo. (Above the clinic, a short hike takes you to goat herds above the hamlet of Santa Maria. We also went to an amazing symphony at the gorgeous 600-year old church in Santa Maria.)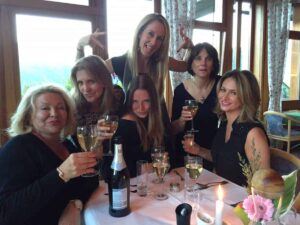 You're confused by these ladies drinking Prosecco at a liver detox? GSG readers from Canada to New Jersey to Texas. Well, that's a good point. We eat vegetarian meals, beautifully prepared, three times a day. But on Friday night, after the "liver flush" on Day 6, we enjoy a Gala Dinner with Dr. Petra Wiechel, M.D. and her husband, Ulf, my good friends who own the clinic. In this photo, Marianna bought a couple bottles of Prosecco and shared with everyone before dinner got started. All detox and no play……well, and we made a couple of sightseeing and shopping trips into the beautiful lakeside towns in Switzerland and Italy as well.
All over North America, Central American, Europe, and Asia, I found nowhere with a value like this clinic offers. Diagnostics, treatments, and R&R. You can read more about the clinic and why a $25 million facility is able to give us incredible prices for the detox program that would be unsustainable anywhere else, even Mexico. I will release a short video with footage I just took at the clinic, in a few months. Stay tuned for that by watching my newsletter.
I already can't wait to go back. You can go, without me, over Thanksgiving this year (for about $4,000 USD), or next April. I'll be leading a trip in August 2016. You can check the dates out and let us know if you're up for a trip of a lifetime.
Posted in: Detox, Events, Mind/Body Connection, Robyn Recommends
2 thoughts on "I'm back from Switzerland, and I hope you come, next time"
Leave a Comment