GreenSmoothie Girl's Christmas Gift Guide and SALE!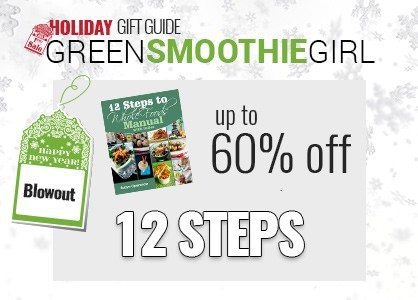 Christmas! Everyone brings you plates of sugary things that taste good but take your immune system down! I love when I find gifts that are THE OPPOSITE of that.
Something that helps the people I care about. The antidote! It has to be something people will actually LIKE and USE for Christmas gifts. On that note, we have some UNPRECEDENTED sales for you, including: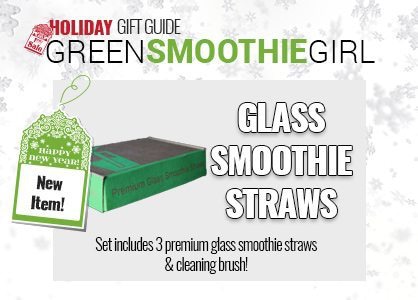 NEW GLASS STRAW GIFT SET! 33% OFF!
We have the coolest GLASS SMOOTHIE STRAWS that we made just for our green smoothie-loving friends. This is a BRAND NEW item with a BIG discount for Christmas! Hurry because you get 33% off up until New Year's Eve and we have only a limited quantity.
(Guess what all my neighbors, siblings, and tennis teammates are getting for Christmas….anything to help people on a healthy path!)
This not only makes drinking green smoothies helpful, it eliminates plastic straws sent to the landfill! The three different colored straws come with a reusable brush to clean them easily. Dishwasher safe!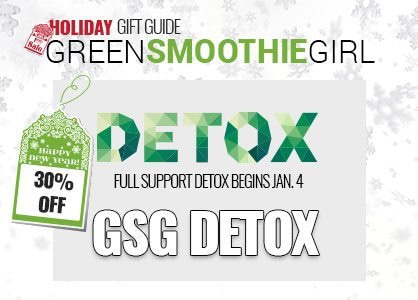 GreenSmoothieGirl DETOX!   30% off!
We haven't hosted a live Detox since May….and readers have been telling us, it's time! We do the live, supported detox starting Jan. 4, but it's on sale just till Dec. 31, so get your manual and quick start guide in time!
12 Steps to Whole Foods   50-60% off WOW!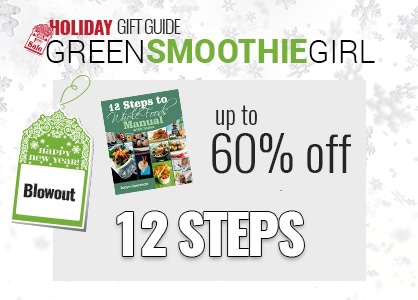 It's my #1 favorite thing I've ever done—the 12 Steps to Whole Foods course. The most important. (The Detox is a close second.) I spent a year of my life developing it, fulltime!
And all of these options disappear Jan. 1, forever. We've never done a sale on this product and this one is HUGE—all 12 Steps course options are 50 to 60 percent OFF!
The course represents what I spent hundreds of hours learning, and it's condensed to BEST PRACTICES in nutrition. It was designed to massively improve your nutrition and health inexpensively and deliciously with minimal effort.
The MANUAL alone is a 400-page, full-color guide to every practice in nutrition worth your effort.
The STANDARD COURSE adds DVD's, audios, my bestselling book The Green Smoothies Diet, and more to augment your learning and make it easy, whether you're an auditory or visual learner.
The PREMIUM COURSE comes with the 8-week menu planner, my children's books, starters for your cultured foods, lots more DVD demos, and so much more.
I have updated them for 6 printings, adding new healthy discoveries I've made since the last printing.
These original courses will NOT be offered after Dec. 31. This course is what I wish I had when I was obese with 21 diagnosed diseases and had to start learning from scratch. It has radically improved quality of life for thousands of people and helped them lose thousands of pounds, too.
If you've been wanting your copy, now's the perfect time because this fire sale will never happen again.
To your health!
Posted in: 12 Steps To Whole Food, Books, Detox, Robyn Recommends
One thought on "GreenSmoothie Girl's Christmas Gift Guide and SALE!"
Leave a Comment