Goodbye to speaking tours!
I've loved traveling to 450 cities on speaking tours in the past 6 years. And I'm not "burned out." But for the rest of the year, maybe permanently (haven't decided yet), I've decided to stay home and focus on some neglected projects that I plan to bring value to your life.
I've learned so much meeting GreenSmoothieGirl readers nationwide, sharing my story with you and hearing yours. I have thousands of faces and hundreds of stories in my head and heart.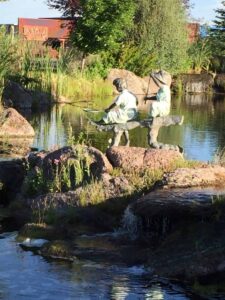 I have one more tour ahead of me in Boston, Philadelphia, Baltimore, and Northern Virginia. I just came back from Idaho Falls, which is an interesting town because it's rather drab and nondescript, except for the beautified section of the Snake River along the hotel and shopping district where I run into little surprises like this art in a little pond and this spectacular roundabout in a "downtown" with no multi-story buildings. I have spoken there for 7 years in a row, since I started traveling and speaking.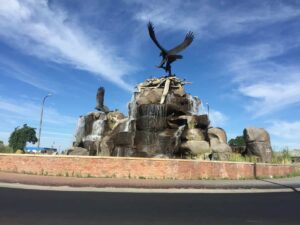 I'll miss stuff like this—running in new places and discovering your city's treasures, teaching things that matter for your health and your life.
I'm not saying goodbye. I am just getting back to research as well as revitalizing the whole GSG site that will relaunch by end of July to be far more encompassing than just about nutrition and eating whole foods. Much of my research and life experience in the past 5 years goes far beyond food. My site will be blog-centric and the blog and newsletter will get more of my focus.
Thank you, Boise and Idaho Falls, for the fun memories. And thank you to so many who have come to hear and taste how amazing whole foods are and how your health can transform when following basic principles. I've loved every minute of it. Maybe sometime, I'll do it again. For now, Baby Boy gets his mama at all baseball games, and GreenSmoothieGirl.com gets some TLC and a facelift!
Posted in: News