FRESH batch of PreZymePro… Selling Fast!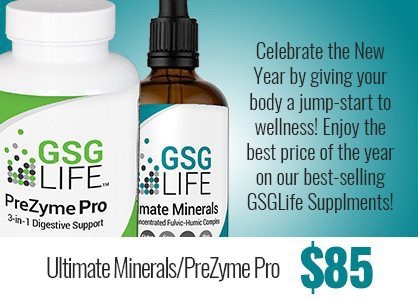 PreZymePro is back in stock and part of a special deal this month! You'll get $23 off the package of our two most wildly popular products . . . Ultimate Minerals and PreZymePro.
When we first introduced this digestive aid a few months ago, it sold out within DAYS!
I'm proud of PreZymePro, I'll admit.
It's the only product of its kind: a 3-in-1 plant-based digestive aid with a complex FOS for pre-digestion, six enzymes, and 15 total strains of probiotics to support the health of your entire GI tract.
You won't find anything like it, anywhere. We didn't slap our label on somebody else's product. We formulated it ourselves because I've always wanted a prebiotic and probiotic with enzymes all in one for gut health….but I didn't want to have to take three things! (Most probiotics on the market aren't diverse enough for my liking, anyway.)
And, I want it in fresh, small batches. We literally JUST MADE this batch. You cannot find a fresher product anywhere, and this is a BIG DEAL when it comes to live probiotics!
You know I'm a fan of getting nutrients from primarily raw FOOD versus pills, but I have long recommended supplementing with a few things. And do so myself.
Vitamin D, for almost everyone, oil based. A natural (rather than synthetic) fulvic and humic acid compound, straight out of organic plant matter where our crops are SUPPOSED to get it.
That's our ULTIMATE MINERALS, our #1 most popular product—watch out, my HAIR AND NAILS grow twice as fast and thick using this twice daily! And Ultimate Minerals is part of this special package on sale!
And, for EVERYONE eating any variant of the Standard American Diet . . . .
Enzymes and probiotic supplementation for better digestion are a MUST. Aging, diet, and environmental factors can lead to enzyme depletion. The short-term effects of enzyme depletion include indigestion, heartburn, constipation, gas, and bloating. But the long-term effects of being unable to synthesize food properly lead to major disease.
In 12 Steps to Whole Foods, I recommend taking enzyme supplements before any meal that is less than 80% raw, to help the body digest cooked food.
Probiotics are the "friendly" bacteria in the gut that help the body digest and absorb nutrients. New research is showing that probiotics are responsible for supporting the health of even more systems than previously thought, including those responsible for immunity, brain function, and even oral and mental health.
Different probiotics do different tasks, so getting a variety of probiotic strains is essential, especially because diet, medications, and exposure to pathogens can easily upset the balance between friendly and unfriendly bacteria. Supplementing is an effective way to replenish and rebalance your good gut flora.
When I began formulating PreZymePro, I started with 6 enzymes and 15 strains of probiotics, which is far more than other products have. The gut has a WIDE variety of probiotics, living in a complex harmony that supports immunity and good digestion.
I also wanted to add a prebiotic.  Prebiotics serve as food for probiotics, providing them a good environment to work in and multiply quickly. Probiotics' favorite food is fructooligosaccharides, or FOS, and the best FOS comes from organic yacon root—so in it went!
And because trace minerals are needed as cofactors, or "triggers," to activate enzymes, I added just enough to do the job. The result is a truly unique product that has been a best-seller from its debut.
And it's shelf-stable for two years, with no refrigeration!
Through Jan. 31 ONLY, PreZymePro is paired with our popular Ultimate Minerals and discounted from $108.85 . . . to just $85 for the combo. Go here to jumpstart your 2016 health and save big!
P.S. A big shout-out to Nikki Hunter on the GSG team the past 4 years. She's our ops manager and worked in a health food store for many years. She knows her stuff and researched many, many hours, and painstakingly vetted suppliers to bring this product to you. PreZyme Pro was literally a year in the making, because we don't just make whatever creates revenue. We make only things we want for our own families, that don't exist in the marketplace. I'm proud of PreZyme Pro, but I'm just as proud of the amazing Nikki Hunter!
Posted in: Uncategorized