The Price of Pretty: Don't Paint Your Nails Again Without Reading This!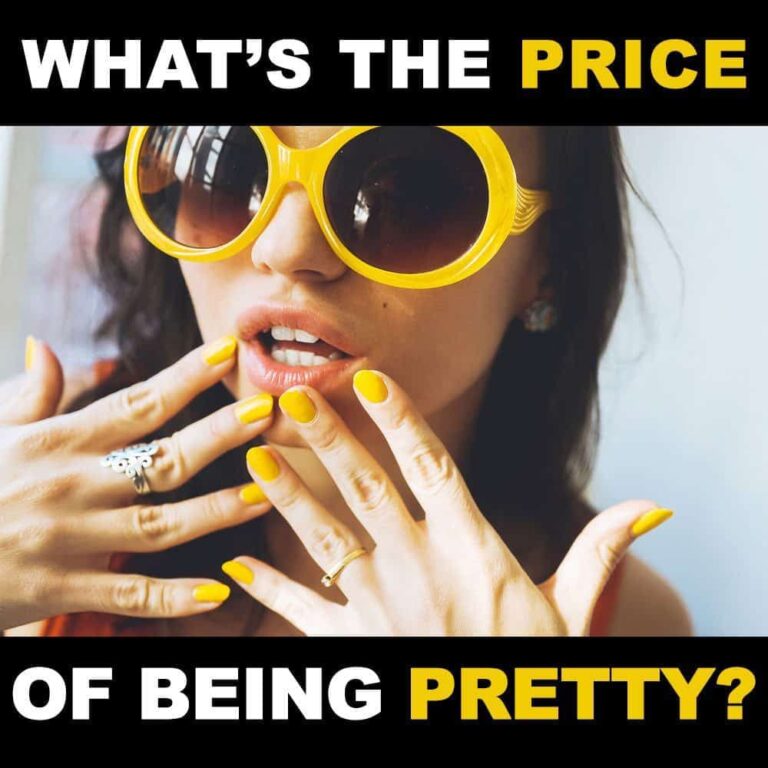 Last year, getting a pedi at my salon, the manicurist sold me on a fabulous product called "gel toes." It lasts so much longer than regular nail polish, she said. It doesn't chip off.
Here's the dark side, I learned, when I returned a month later. Do you know how they get that stuff off?
They make you soak your toes in acetone for 15 minutes! Acetone is the primary ingredient in nail polish remover, but it's also paint thinner.
The small amounts of chemicals on our skin, from lotions, cosmetics, and nail polish and removers, add up to serious hormone disruption, which affects everything about your health.
Grab this Toxic Cosmetics Ingredients card to print, cut out, and keep in your purse. When you're at the store, it can be your guide, to avoid cancer-causing chemicals. No one should get sick because of lotion or makeup.
Remember, if you attended my free 13 Detox Secrets webclass recently, I explained that your skin is NOT a barrier to chemicals. When you put something on your skin, it's immediately absorbed into your bloodstream. (So, a good rule is, don't put anything on your skin you wouldn't eat.)
I love how long-lasting "Gel Toes" are, as the ladies in the salon call it. But I'm not going to EVER soak my nails for 15 minutes in acetone again. That's 15 minutes straight of pouring paint thinner into my bloodstream!
Sometimes the price of pretty is too high.
Also, check out this article on what happens after you paint your nails. Of course you know nail polish is toxic, but it was news to me how much of it is measurable in the bloodstream many hours after you paint your nails. You'd think, hey, my toenails don't absorb anything. Apparently, through breathing it, contact with the skin, and perhaps even absorption through the nails, the toxic price is significant.
By the way, here's a quick video I made for my Facebook followers – live, with my manicurist, using a much better polish!

I've already told my tennis team that if they spray pesticide at the country club courts where we play, I'm leaving practice. The tennis courts are smack in the middle of a golf course, with acres of grass.
Having warned them, I won't end up feeling I have to stay out of social pressure, on days they spray. One of our captains said she'd find out what days the weed-n-feed company is scheduled, so I can opt out of practice on those days.
Pesticides and herbicides are so deadly, especially in concentration in the air and groundwater where they're sprayed for days afterward, that farmers are one of professions most often diagnosed with cancer.
I moved away from my beautiful, 7,000 square foot home that I raised my 4 children in, mostly because the 5 acres at the top of my street were leased to a tomato farmer who began spraying pesticide. I couldn't stand the thought that I make so many sacrifices and spend so much money and time for my family to opt out of the toxicity of the modern lifestyle–only to be forced to breathe and drink concentrated deadly chemicals.
But even though I'm willing to make big sacrifices to get away from well-known chemicals, I didn't think much of nail polish.
It definitely smells deadly, doesn't it? But, I've always told myself, I put it on my nails, not my skin, where everything is absorbed.
Apparently, blood testing shows, it's not true. We breathe it, and we do absorb it.
Most nail polish includes toluene, one of the most carcinogenic chemicals in gasoline, and formaldehyde, which you already know is used to embalm dead bodies.
But maybe worst of all is dibutyl phthalate (DBP), which the Environmental Working Group (EWG) published a study about, in 2000, showing it to be in most nail polishes, and causing reproductive and hormone problems in rats.
It won't surprise you that hairdressers have the highest rates of cancer, of all professions. So much daily exposure to chemicals, and it's on their hands and skin, being absorbed—and they're breathing the hairspray and toxic fumes from various treatments.
Luckily, some nail-polish companies are making non-toxic products that come off with rubbing alcohol.  For me and my daughters, I just found a bunch of non-toxic polishes from these companies: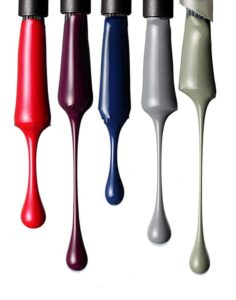 Acquarella
Drs Remedy
Honeybee Gardens
Peacekeeper Cause-Metics
Piggy Paint
SpaRitual
Tip: If the polish says 5-Free, that means it is free of formaldehyde, dibutyl phthalate, toluene, formaldehyde resin, and camphor.
Warning: non-toxic nail polish is not cheap. It's like everything else—quality costs money, health costs money, and there aren't economies of scale (yet!) to bring down the cost. If we buy products from the non-toxic companies, though, we'll be a part of the movement to bring the price down and supply up!
I bought colored nail polish for me, Emma and Libby, as well as some base coat / top coat clear polish. And don't forget to get some rubbing alcohol, because it's a far cry better than acetone (nail polish remover). It will work only on the natural polishes, not the regular kind.
I don't paint my fingernails often, but I like pretty toes, and it's part of our culture:
Girls like to look pretty, and we like color. I'm sure you're as bummed as I am, that what we've been using is harmful to us.
But, I want to speak up, because we do have other options!
My research on nail polish remover's toxicity was a perfect sample lesson in not valuing or weighting everything you read on the internet the same. Remember there are many motives to write articles, and a primary one, with MOST content on the internet is: MARKETING.
One article just soothed the reader that putting nail polish remover on your body is totally safe, and quoted people who clearly have a vested interest in the cosmetics industry.
On the other hand, Mercola has a stated agenda of being a muckraker, exposing products that are bad for us. So his staff writers look for that. But, since I generally don't trust that eating and applying chemicals to our bodies is ever a great idea, I trust his content more, plus he quotes actual research. Here's an article that explains the endocrine-disrupting, toxic chemicals in nail polish remover.
I've made this Toxic Cosmetics Ingredients card for your wallet—just print it, cut it out, and put it in your wallet. Make sure to consult it, when you're buying anything that goes on your skin, and avoid these cancer-causing ingredients!
I hope this is helpful to you. I'll post on Facebook what I think of the different non-toxic products I bought, so be sure to "like" GreenSmoothieGirl.
Grab your Toxic Cosmetics Ingredients wallet card, by entering your info below. I'll send it right to your email, and also give you my premium newsletter with other great goodies, for free!
Posted in: Detox, Robyn Recommends
21 thoughts on "The Price of Pretty: Don't Paint Your Nails Again Without Reading This!"
Leave a Comment