April Fools delicious treat recipes for you!
I went from 206 pounds and 21 medical diagnoses, to my ideal weight and disease free, 20 years ago. I drink LOTS of green smoothie every day, and eat plants and little processed food and animal foods. BUT. I never have lost my interest in having a treat every day! I probably never will.
Lots of great ideas and yummy recipes helped me make a transition. Away from Skittles, chocolate-frosting donuts, and peppermint patties, to treats made with whole foods.
Here are some Chocolate Bonbon and Pink Sunset Popsicles recipes from GSGLife Instructor Mary Stephens in Provo, Utah.  Enjoy!
Good-for-You Chocolate Bonbons
Nut Butter
½ C creamy natural peanut butter or almond butter
½ C honey
1 Tbsp. coconut oil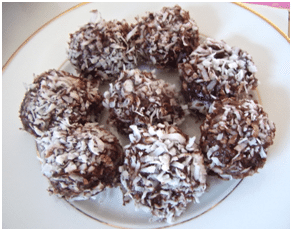 ½ C ground flaxseed or ⅓ C GSG sprouted ground flaxseed
¾ C wheat germ
½ C walnuts, chopped
Chocolate Coating
½ C coconut oil
½ C unsweetened cocoa powder
¼ C + 2 Tbsp. honey or agave syrup
1 tsp. vanilla
½ tsp. Chinese Five Spice
pinch of sea salt
3 Tbsp. unsweetened coconut milk
Topping
2 C sweetened or unsweetened shredded coconut
Combine nut butter ingredients in a mixing bowl. Place three or four heaping tablespoons of mixture on a wax paper-lined cookie sheet. Shaping with your fingers, form a one-inch-diameter roll. Repeat with remaining mixture to form a second roll. Cool in freezer for 10 minutes. Slice into one-inch sections and roll each into a ball. Place in freezer while preparing the chocolate coating.
Scoop semi-solid coconut oil into a clean bowl. If the oil is in liquid form, place in the freezer for a few minutes until it's white but still soft. Gradually add up to ½ C cocoa powder, stirring until a soft consistency is reached. Add honey, vanilla, Chinese Five Spice, and sea salt. Stir in coconut milk.
Roll chilled balls in chocolate, a few at a time. With two forks, lift and place chocolate-covered balls into a shallow bowl filled with half of the shredded coconut. Sprinkle tops and scoop up onto sides, then place onto a waxed paper-lined cookie sheet. Refresh with new coconut as needed. Pop into freezer for about 20 minutes until firm.
Store in a plastic container in refrigerator or freezer. From freezer, let sit at room temperature for 5–10 minutes before serving. Makes about 25 bonbons.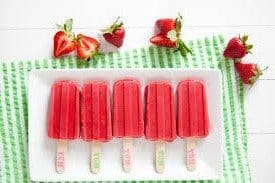 Pink Sunset Popsicles
12 oz frozen OJ concentrate w/pulp
2½ C unsweetened coconut milk
1 scoop GSG Superfood Reds
2 C sparkling water
2½ C frozen strawberries, thawed
2 Tbsp. honey, or to taste
In a blender, mix first three ingredients until smooth. Add sparkling water and stir.
Cut strawberries into small chunks and mix with honey. Place 2 Tbsp. strawberries in the bottom of each mold. Repeat with remaining molds, then place in freezer for 10 minutes. After 10 minutes, pour in the orange juice mixture to ¼" from top of molds. It will create an orangey-pink sunset swirl within the mold. Insert holders.
Freeze solid. Run warm water over the molds to remove. Makes about 14 4-oz. popsicles.
Posted in: Nutrition, Recipes, Robyn Recommends, Whole Food
2 thoughts on "April Fools delicious treat recipes for you!"
Leave a Comment