Another #GreenSmoothieFail!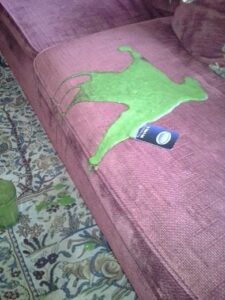 Monte B. wrote us and said, this is why we don't eat food on the family room couch! [Note from Robyn: show this to your kids when they ask WHY they can't take their food in the family room!] I spilled my green drink. Isn't it pretty?
My wife has been badmouthing my carpet cleaner with a furniture attachment since the day we got married. It worked like a charm on this mess, and now she's a believer!
Thanks, Monte, we love the GreenSmoothieGuys who hang around this blog too.
Posted in: Green Smoothies
No comments found, but you can be our first!