Announcing our new probiotic enzyme . . .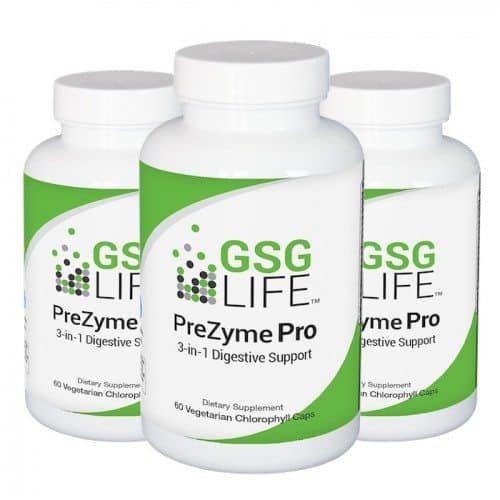 I have just formulated a brand new product—something I've always wanted and that doesn't exist in the marketplace. Virtually everyone who has ever been on antibiotics, or who has eaten GMO foods or gluten grains, has gut issues at this point. How do you rebuild and support great digestion?
I'm excited to announce our 3-in-1 digestive support called PreZyme Pro. It's formulated with 6 different digestive enzymes, plant-based prebiotics, PLUS 15 different probiotic strains! You're getting 7 BILLION living probiotic organisms per capsule!
We've also included organic trace minerals–minerals are cofactor "triggers" for enzymes to work properly. Since many Americans are mineral deficient, we knew our customers would get better results if we included these cofactors in the formulation.
We're getting so much great feedback from our employees and friends who have been using it, including one of our management team who said her first night using it was her first no-nausea, no-heartburn night of her 8+ month pregnancy.
PreZyme Pro is the first product of its kind to contain prebiotics, probiotics, AND enzymes. And, as you expect from us, it is plant-based, GMO-free, gluten-free, and soy-free, with no fillers.
The gastrointestinal tract is a complex system and sometimes, regardless of how carefully we eat, it needs some help. Stressors like poor diet, antibiotics, environmental toxins, and harmful bacteria can cause digestive upset, along with other factors like aging. Studies show that after about age 30, the body's natural production of enzymes goes into decline and we may need additional digestive support.
New studies are linking gut health to that of other systems, including immunity, neurological health, and, most recently, mental health. Taking good care of your digestive system has more benefits than just avoiding stomachaches, bloating, and gas!
Check it out here: PreZymePro digestive support
Posted in: GSG Foods for Health, News