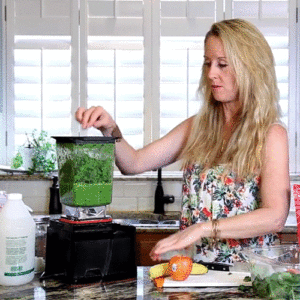 Robyn Openshaw, MSW, is the bestselling author of The Green Smoothies Diet, 12 Steps to Whole Foods, and 2017's #1 Amazon Bestseller and USA Today Bestseller, Vibe: Unlock the Energetic Frequencies of Limitless Health, Love & Success.
In 2001, her life was at a standstill. Her little boy had been diagnosed with severe asthma and "failure to thrive." She went on a journey to learn about healthy food. And through what she learned, she and her son got their lives back.
Robyn shared her experiences and helped make "green smoothie" a household word through her GreenSmoothieGirl.com website. She also developed the 12 Steps to Whole Foods Course to give people the simplest, fastest track to ease them into changes that will make a radical difference in their physical and mental health.
For a limited time, Robyn is opening her FREE Healing with Whole Foods Video Masterclass to help people escape the nutrient-scarce Standard American Diet and discover a Whole Foods Lifestyle they enjoy.