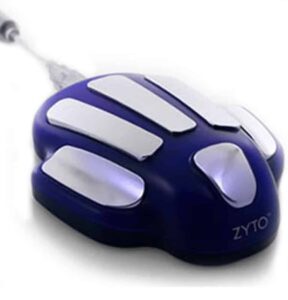 The Zyto Compass scanner is an exciting technology that lets YOU show attendees at our events what plant essences will address their personal imbalances!
Not only is this helpful to the people who attend our classes, in addressing their health issues, but it also allows you to build an income at the Medicine Cabinet Makeover classes we sponsor. This revolutionary class will help people replace drugs with better alternatives. Additionally, your GreenSmoothieGirl coach will teach classes on other topics in order to empower our followers with self-directed, plant-based medicine.
You can be one of our leaders, helping at those classes. You'll run scans and sign people up to begin using essential oils (along with a whole-foods diet, of course!) as their first line of defense in healing and prevention.
The apprentice coach application is HERE. (When you submit the application, the GreenSmoothieGirl coach nearest you will contact you.)
The link to get a Zyto Compass scanner for your laptop is HERE.
Plants are what drugs were, before there were drugs. Plant extracts, used wisely, promote the body's natural healing mechanisms.
Drugs always have side effects. They are toxic, synthetic, and not analogous to the natural chemicals produced by the body's systems to right itself when in crisis.
The same scientific basis that Zyto leverages, with the Compass software, underpins EEG, EKG, lie detector tests, Biomeridian testing, and many others. The device measures the physiological response of the body to various stimuli. Signatures from various substances can be assessed, through the body's electrical conductivity, measuring via your skin in the hand cradle.
Your laptop (a required component to plug your Zyto cradle into, and download Compass technology) then gives you a ranking of essential oils, with the highest to lowest priority, for balancing your personal, immediate issues. Often, one or two essential oils or oil blends have the critical constituents to balance almost all of your issues!
Watch this 2-minute video on the Zyto technology.
Gustavo at Zyto Compass is happy to help you and he will do an online demo if you'd like…in addition to answering all your questions. His email is greynoso@zyto.com
When you follow Zyto's installation instructions on your laptop, you'll be asked to choose a company.  Choose doTerra.
The monthly fee to use your Zyto Compass program is $39.95.
The GreenSmoothieGirl team—Robyn and 18 coaches selected from over 4,500 applications received nationwide—will conduct Medicine Cabinet Makeover classes, and we need YOU to run scans and educate our followers about the power of plants in healing.
Get your Zyto Compass scanner HERE.
________________________________________________________
* The links on this page are affiliate links, meaning that I receive a small amount from the sale of each Zyto Compass scanner when a link here is used. Whether or not you use these links, I do hope you will check out the Zyto Compass scanner!