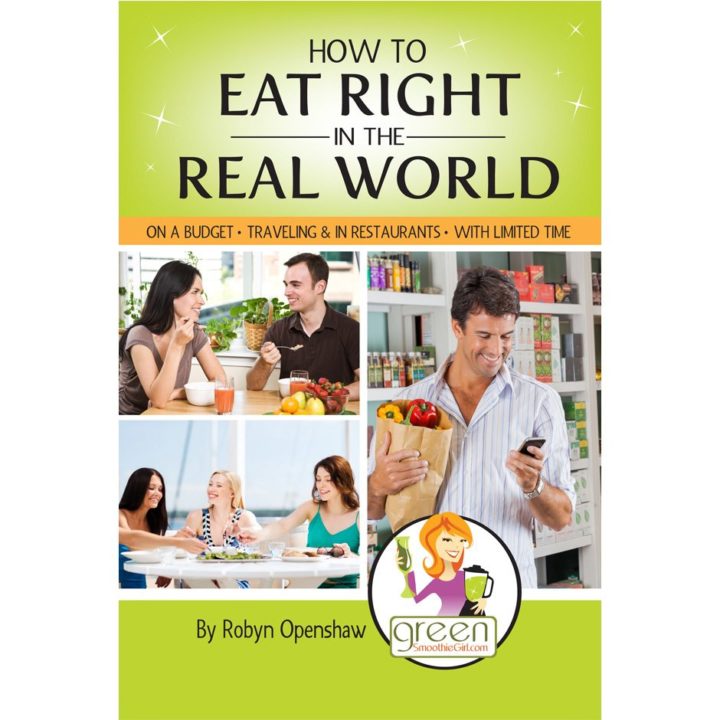 How to Eat Right In the Real World – Non Attendee
How to Eat Right in the Real World
Even on a budget!
Even traveling and in restaurants!
Even with limited time!
180 Pages
Free copy for any VIP attending Robyn's 2014 lecture tour! (Choose this book or How to Raise Healthy Eaters.) Robyn covers hundreds of practical tips for eating right wherever you are, including parties, on the road in the car or airports, during holidays, and at restaurants. She shows that anyone on a budget or working full-time can eat a diet that is disease-preventative and allows you to achieve your destiny with high vibrations, lots of energy, and a positive mood!
GreenSmoothieGirl readers contributed many ideas, photos, and recipes for this exciting new book that flattens your learning curve as you make the shift away from the Standard American Diet to whole foods!
Get a ticket to Robyn's 2014 speaking tour (88 cities) HERE!
Product Description
How To Eat Right In The Real World
180 pages
Full color
Additional Information
| | |
| --- | --- |
| Weight | 1 lbs |
| Dimensions | 9 x 6 x .5 in |