Product Description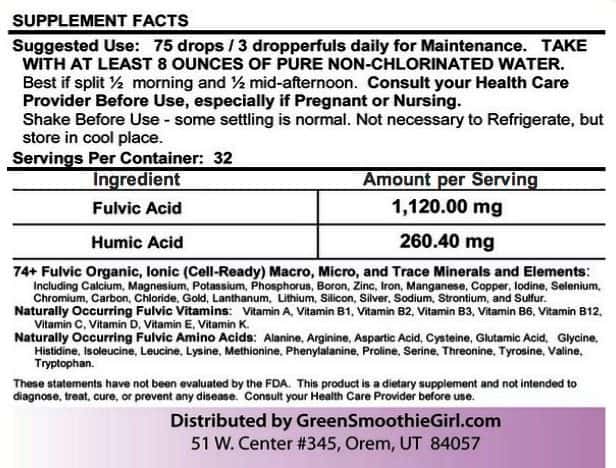 GreenSmoothieGirl Ultimate Minerals (4 oz):
When you compare our new GreenSmoothieGirl Ultimate Minerals to the Liquid Light we used to offer, several things will be readily apparent:
Our tiny 4oz dropper bottle as compared to Liquid Light's 32oz bottle means a highly concentrated product with lower shipping costs
GSG Ultimate Mineral's rich dark color means that we've added humic acid to the fulvic acid for a more whole, superior product
Our product is Certified Organic
Because modern agricultural practices have depleted naturally-occurring minerals in our soil, even people eating a whole-foods diet with 60%-80% raw fruits and vegetables often suffer mineral deficiency. Over 150 metabolic diseases are directly related to this deficiency, including heart disease, diabetes, fibromyalgia, osteoporosis, rheumatoid arthritis.  Chronic conditions like weight gain, fatigue, insomnia, and hormone imbalance often have their roots in the body's lack of proper balance of minerals and vitamins.
GreenSmoothieGirl Ultimate Minerals is a compound of fulvic and humic acids naturally extracted from ancient plant deposits and presented in the most highly-concentrated product possible. All 10 vitamins, all 74 minerals, all 18 amino acids, electrolytes, and other elements are here in their naturally proportioned, organic and ionic form that our bodies can easily recognize and use to perform vital roles:
delivers nutrients in cell-ready form, optimizing cell membrane functions*
reverses acidity and chronic inflammation*
aggressively scavenges and neutralizes all forms of free radicals*
detoxifies by chelating and removing heavy metals such as lead, cadmium, and mercury*
increases endurance, stamina, and a sense of well-being through optimal nutrient balancing*
The inclusion of humic acid sets our product apart, providing its rich color and performing additional functions in the intestines and colon with its unique molecular structure:
provides building blocks for the production of digestive enzymes*
provides fiber to cleanse and detoxify the gut*
nourishes essential intestinal digestive flora with plant-based, cell-ready nutrients*
helps to eliminate candida and other virus microbes from the digestive tract*
Because of the strong cleansing functions of concentrated humic, we recommend starting at a lower dose and working up to the recommended amount as your body cleanses and rebalances itself with these powerful substances.
Green Smoothie Girl Ultimate Minerals comes in a 4oz glass bottle with a dropper for convenient dosing for a taste-free, powerful addition to smoothies, juices, or water.
This product is suitable for vegans, and free of allergens, including yeast, soy, gluten, and nuts.
Supplement Facts
Servings per Container: 32
| Ingredient | Amount per Serving |
| --- | --- |
| Fulvic Acid | 1,120.00 mg |
| Humic Acid | 260.40 mg |
Ingredients
74+ Fulvic Organic, Ionic (Cell-Ready) Macro, Micro, and Trace Minerals Elements:
Including calcium, magnesium, potassium, phosphorus, boron, zinc, iron, manganese, copper, iodine, selenium, chromium, carbon, chloride, gold, lanthanum, lithium, silicon, silver, sodium, strontium, sulfur.
Naturally Occurring Fulvic Vitamins:
Vitamin A, Vitamin B1, Vitamin B2, Vitamin B3, Vitamin B6, Vitamin B12, Vitamin C, Vitamin D, Vitamin E, Vitamin K
Naturally Occurring Fulvic Amino Acids:
Alanine, Arginine, Aspartic Acid, Cysteine, Glutamic Acid, Glycine, Histidine, Isoleucine, Leucine, Lysine, Methionine, Phenylalamine, Proline, Serine, Threonine, Tyrosine, Valine, Tryptophan
* The products and the claims made about specific products on or through this site have not been evaluated by the United States Food and Drug Administration and are not intended to diagnose, treat, cure or prevent disease. The information provided on this site is for informational purposes only and is not intended as a substitute for advice from your physician or other health care professional or any information contained on or in any product label or packaging. You should not use the information on this site for diagnosis or treatment of any health problem or for prescription of any medication or other treatment. You should consult with a healthcare professional before starting any diet, exercise or supplementation program, before taking any medication, or if you have or suspect you might have a health problem. Please view our full Terms of Use Agreement for more information and the terms and conditions governing your use of this site.