Product Description
3 Pack of the following: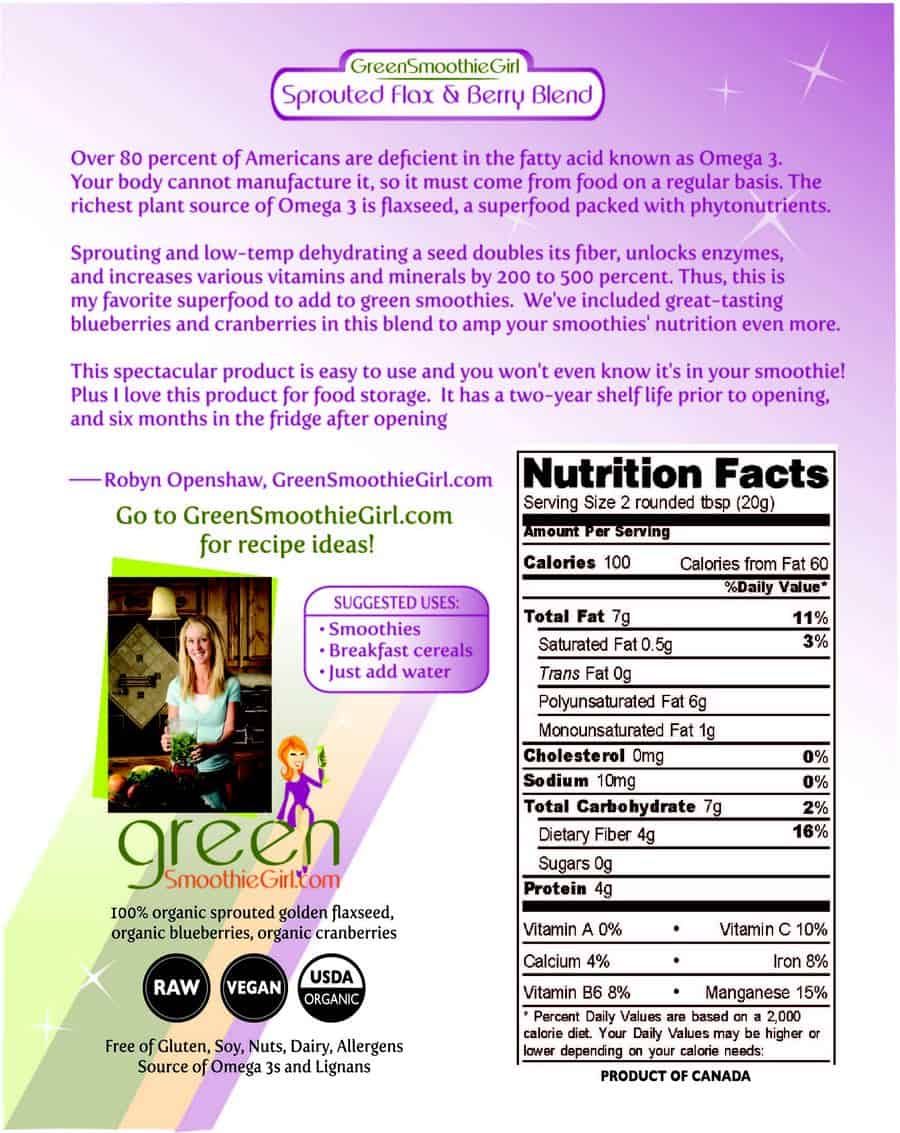 GreenSmoothieGirl Sprouted Flax with Blueberries and Cranberries (48 oz):
We've replaced our former sprouted flax products with a new line of our own!
Why sprouted?  People turn to flax seed as the best plant source of Omega 3 Essential Fatty Acids and lignans on the planet–but flax seeds contain natural enzyme inhibitors to prevent digestion, so the seed can pass all the way through the digestive system and still grow into a plant.  Sprouting eliminates these inhibitors, allowing the nutrients to become available for absorption.
 Sprouting biologically activates the seed, unlocking and greatly increasing the vitamins, minerals, proteins, fiber, and other nutrients, transforming it into a living superfood.
Sprouting also stabilizes the Essential Fatty Acids in the seed.  This does two things:  it increases the conversion efficiency of the EFAs for better bioavailability, and it prevents rancidity.  Regular ground flax and flax oil have short shelf spans, but our SPROUTED ground flax has been tested for a 2-year shelf life, and keeps 6 months in the fridge after opening.
The special process our organic seeds undergo includes sprouting and then gently drying the sprouted seed so that it retains the benefits of enhanced bioactivity and stabilized EFAs.  It is then cold-milled and ready to be used in smoothies, baked goods, on salads, and in sauces.
GreenSmoothieGirl Sprouted Ground Flaxseed  with Blueberries and Cranberries is a simple food:  Just three USDA Organic ingredients–Sprouted Ground Flaxseed, Organic Blueberry Powder, and Organic Cranberry Powder.  No chemicals, no preservatives, just natural whole foods, flavored with Nature's own sweetness.
Each 20g serving of GSG Sprouted Ground Flaxseed with Blueberries and Cranberries contains over 7000mg of Omegas, 4g of protein, and  4g of fiber.
Suggested uses:  Besides adding a serving to your smoothies, use in place of some of the flour in pancakes and baked goods, in soups and sauces, sprinkled over salads, mixed into granola, or blended into protein shakes or juices.
USDA certified organic, free of gluten, soy, dairy, allergens, GMO, and added sugar.
Supplement Facts
Serving Size: 2 Rounded Tbsp (20g) Calories: 100 Calories from Fat: 60
| Item | Amount per Serving | % of Daily Value* |
| --- | --- | --- |
| Total Fat | 7g | 11% |
| Saturated Fat | 0.5g | 3% |
| Trans Fat | 0g | |
| Polyunsaturated Fat | 6g | |
| Monounsaturated Fat | 1g | |
| Cholesterol | 0g | 0% |
| Sodium | 10g | 0% |
| Total Carbohydrate | 7g | 2% |
| Dietary Fiber | 4g | 16% |
| Sugars | 0g | |
| Protein | 4g | |
| Vitamin A | | 0% |
| Vitamin C | | 10% |
| Calcium | | 4% |
| Iron | | 8% |
| Vitamin B6 | | 8% |
| Manganese | | 15% |
Ingredients:
100% Certified Organic sprouted golden flaxseed, organic blueberries, organic cranberries. ———————————————————————————————————- * Percent Daily Values are based on 2,000 calorie diet. Raw, Vegan, USDA certified organic. Free of gluten, soy, nuts, dairy, allergens.
These statements have not been evaluated by the Food and Drug Administration.  This product is not intended to diagnose, treat, cure, or prevent any disease.