Product Description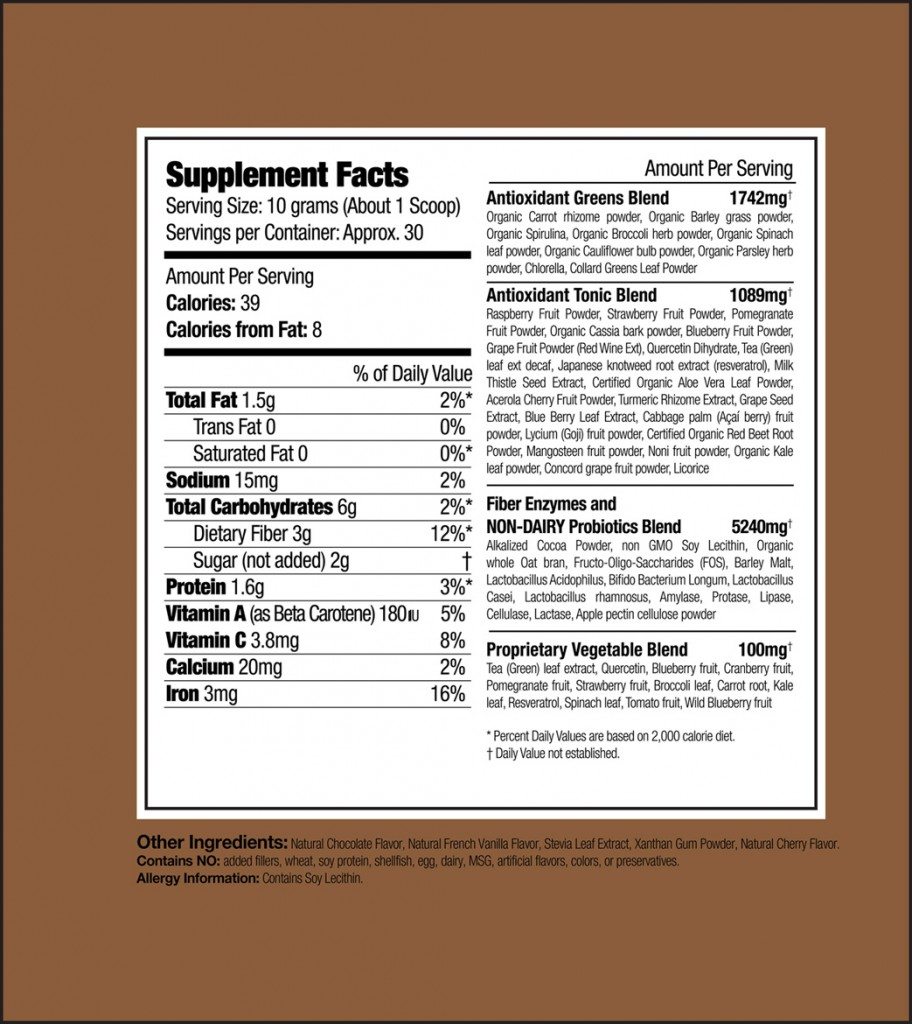 GreenSmoothieGirl Chocolate Green Light (10.6 oz):
When you compare this product to the Ormus Greens that we offered before we developed Green Light, and Chocolate Green Light, you'll be happy with improvements in both taste and nutrition! We're delighted to intruduce our very own greens drink mix that improves on our former offerings by adding enzymes, probiotics, plant fiber, and an amazingly smooth chocolaty taste that appeals even to kids and anyone accustomed to eating the 'Standard American Diet.'
After trying and using many different greens drinks over the years, I developed this exclusive greens formula superfood that mixes easily with water, tastes fantastic, and – most importantly – is powerfully nutritious. It is sweetened naturally with fruit and other plant extracts with no artificial flavors, colors, or preservatives.
This product is made from freeze-dried, organic fruits, vegetables, herbs, and other plant extracts for a concentrated source of enzymes, antioxidants, vitamins, minerals, fiber, and other phytonutrients, without any artificial colors or flavors. Each delicious serving has the antioxidant equivalent of 20 servings of fruits and vegetables, and helps facilitate digestion, energy, metabolism, detoxification, immunity, and cellular repair and recovery.
GreenSmoothieGirl Chocolate Green Light's Delicious Chocolate Flavor is smooth and chocolaty. You'll love drinking it throughout the day, boosting your intake of nutrient-dense food and supporting your health.
Think you might like to try Chocolate Green Light along with its sister products? We also offer Green Light called GreenSmoothieGirl Chocolate Green Light, and a wonderful "reds" product, GreenSmoothieGirl Red Light.
Supplement Facts
Serving Size: 10 grams (About 1 Scoop)
Servings per Container: Approx. 30
Calories: 39
Calories from Fat: 8
| Item | Amount per Serving* | % of Daily Value |
| --- | --- | --- |
| Total Fat | 1.5g | 2% |
| Trans Fat | 0 | 0% |
| Saturated Fat | 0 | 0% |
| Sodium | 15mg | 2% |
| Total Carbohydrates | 6g | 2% |
| Dietary Fiber | 6g | 12% |
| Sugar (not added) | 2g | † |
| Protein | 1.6g | 3% |
| Vitamin A (as Beta Carotene) | 180iu | 5% |
| Vitamin C | 3.8mg | 8% |
| Calcium | 20mg | 2% |
| Iron | 3mg | 16% |
Ingredient
Amount per Serving

Antioxidant Greens Blend

Organic Carrot rhizome powder, Organic Barley grass powder, Organic Spirulina Powder, Organic Broccoli herb powder, Organic Spinach leaf powder, Organic Cauliflower bulb powder, Organic Parsley herb powder, Chlorella, Collard Greens Leaf Powder

1742mg†

Antioxidant Tonic Blend

Raspberry Fruit Powder, Strawberry Fruit Powder, Pomegranate Fruit Powder, Organic Cassia bark powder, Blueberry Fruit Powder, Grape Fruit Powder (Red Wine Ext), Quercetin Dihydrate, Tea (Green) leaf ext decaf, Japanese knotweed root extract (resveratrol), Milk Thistle Ext, Certified Organic Aloe Vera Leaf Powder, Acerola Cherry Fruit Powder, Turmeric Rhizome Extract, Grape Seed Extract, Blue Berry Leaf Extract, Cabbage palm (Açaí berry) fruit powder, Lycium (Goji) fruit powder, Certified Organic Red Beet Root Powder, Mangosteen fruit powder, Noni fruit powder, Organic Kale leaf powder, Concord grape fruit powder, Licorice

1089mg†

Fiber Enzymes & NON-DAIRY Probiotics Blend

Alkalized Cocoa Powder, non GMO Soy Lecithin, Organic whole Oat bran, Fructo-Oligo-Saccharides (FOS), Barley Malt, Lactobacillus Acidophilus, Bifido Bacterium Longum, Lactobacillus Casei, Lactobacillus rhamnosus, Amylase, Protase, Lipase, Cellulase, Lactase, Apple pectin cellulose powder

5240mg†

Proprietary Vegetable Blend

Tea (Green) leaf extract, Quercetin, Blueberry fruit, Cranberry fruit, Pomegranate fruit, Strawberry fruit, Broccoli leaf, Carrot root, Kale leaf, Resveratrol, Spinach leaf, Tomato fruit, Wild Blueberry fruit

100mg †
Other Ingredients:
Natural Chocolate Flavor, Natural French Vanilla Flavor, Stevia Leaf Extract, Xanthan Gum Powder, Natural Cherry Flavor.
———————————————————————————————————-
* Percent Daily Values are based on 2,000 calorie diet.
† Daily Value not established.
Contains no: added fillers, wheat, soy protein, shellfish, egg, dairy, MSG, artificial flavors, colors, or preservatives.
Allergy Information: Contains Soy Lecithin