GreenSmoothieGirl's Annual Swiss Retreat and Liver Detox
Robyn Openshaw here, the GreenSmoothieGirl. I'm traveling to Paracelsus al Ronc, June 4-11, 2017, for our annual liver detox retreat, doubling as amazing R&R, and I want you to join me. Once you discover this incredible place, you'll be planning when you can get back there!
I've been to some beautiful places all over the world. I've snorkeled and dived, swum and flown and boated and climbed and hiked and skied in some of the world's most gorgeous scenery, on all the continents.
None are so peaceful, healing, and beautiful as this charming clinic several thousand feet up in Castaneda, Switzerland. It's my second home. It's the best-kept secret in the healing world, and I'm about to tell you about it. We WILL fill up for this retreat, so don't wait long to claim your spot.
Paracelsus al Ronc is the perfect place for R&R, but you're also getting M.D.-supervised European holistic inpatient treatment and an amazing liver detox while eating clean food you're actually enjoy. You'll enjoy the company of others of my tribe who want to improve their health, because we eat 3 meals a day together, and hike and see the sights! I'll teach a class or two, so bring your questions!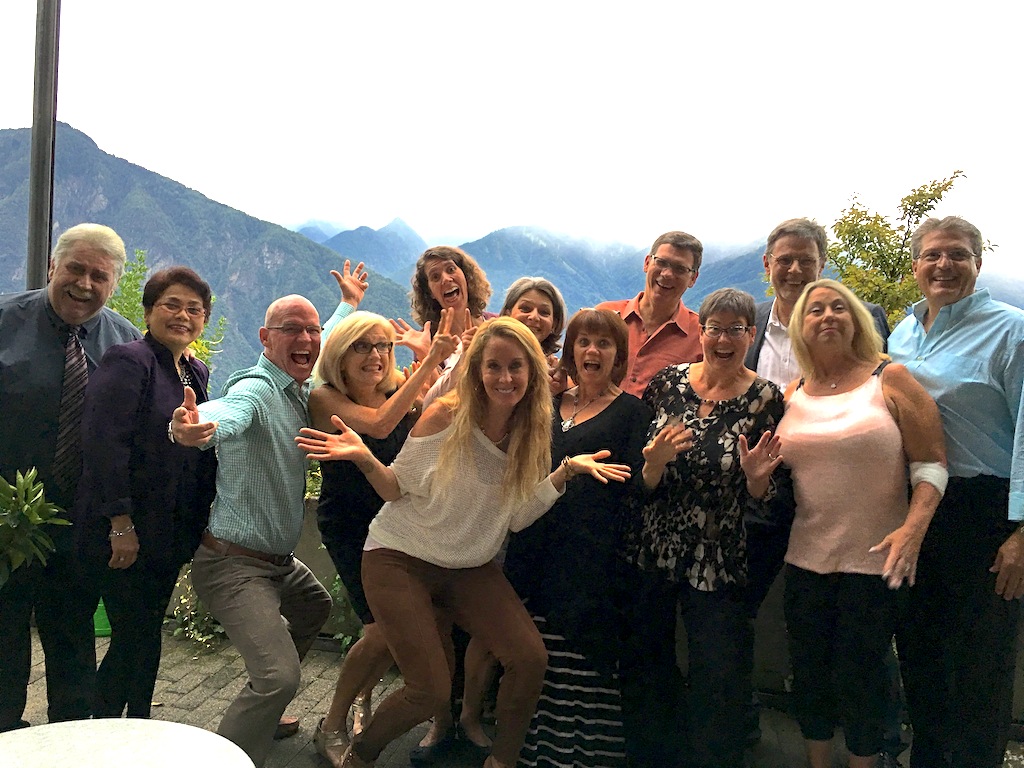 Upcoming Trips
Space is Limited
Reserve now
June 4-11, 2017
$4,900 double-occupancy
Single-occupancy +$500
(if available)
Suggested Travel Plan
Arrive at Milan's MXP airport morning the first day. Depart late morning the last day.
Participants are responsible for their own flight arrangements. Expect $1,000–$1,500 from USA. Additional costs are spending money for shopping, and optional supplements that may be prescribed to you, after diagnostics.

Application & Deposit
Photos From Our Trips
Retoxing after the detox

Owner, Ulf Wiechel with Dr. Wiechel's husband and some 2016 GSG group enjoy a gala dinner
Some of the Diagnostics and Treatments You'll Receive
Liver hyperthermia
Darkfield live blood analysis (amazing what your blood can tell you!)
Colon hydrotherapy
Nutrient IV infusions
Analysis of your autonomic nervous system, and other diagnostics
Acupuncture
Full-body massage and foot reflexology
So much more, all under the individualized care of Dr. Petra Wiechel, MD, and Dr. Fredericke Wiechel, MD
Between treatments, take a long nap, hang out on the deck in the rain or sunshine, to enjoy the view, or hike right outside the clinic.
Paracelsus al Ronc is a great place for absolutely anyone to recharge or restore health. The first time we left this paradise on Earth, we were dreaming of returning some day. I made lifelong friends, and we've returned over and over again.
During your stay, you'll enjoy three daily gourmet, multi-course, detoxifying meals. The sunny dining room overlooks a precipitous drop into the river cutting through the valley, with snow-covered peaks in the background.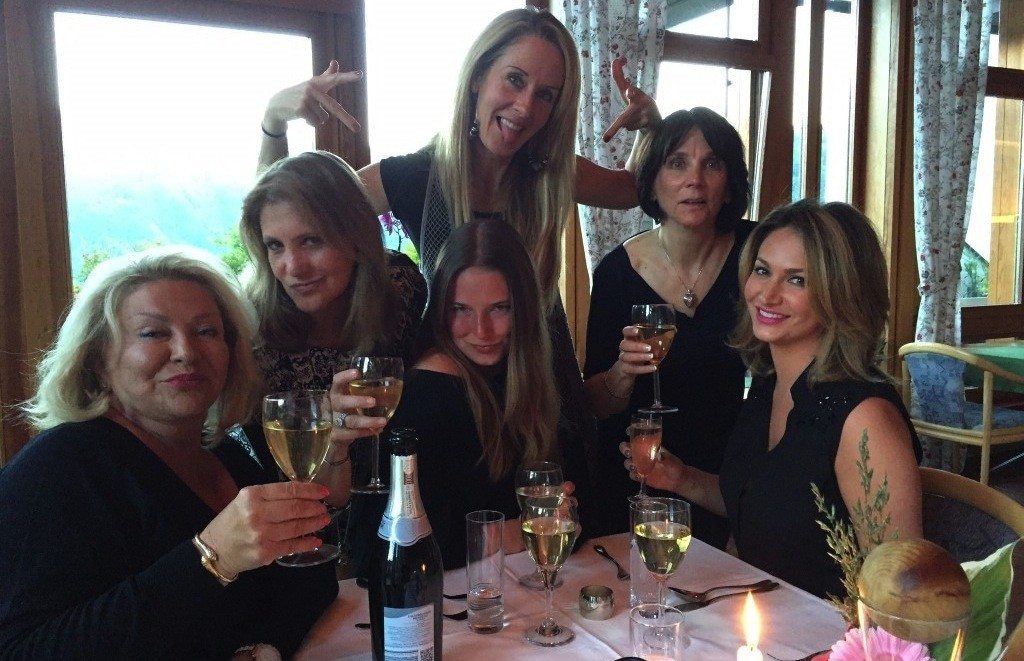 You can rest in your onsite room, between treatments, which is part of what makes this whole experience so healing. One side of your bedroom is entirely windows, with a private deck and lounge chairs. Every room has the amazing view, and so do treatment rooms! Daily hikes discover the ranging goatherds, springs of mineral waters, grottoes and tiny towns, and pristine Alpine wilderness.
Dozens of protocols are administered at the clinic by compassionate staff. Your schedule is made each evening before. The clinic is well-organized and non-stressful. (The Swiss invented the clock, after all.)
The therapies assist your body's processes in purifying and rebuilding. You'll receive tests of the health and strength of your organs, adaptive and regulatory systems, nutritional status, and other functions.
I've been to clinics with very competent care before, in a 3 1/2 year, 18-clinic research tour of facilities that treat serious disease holistically. Nothing compares to this amazing place, built for $24 million in 1983 and sold to my friends, the Wiechels, for $1.5 million in 2011. The treatment price I've negotiated here is amazingly low, even compared to subpar Mexican clinics I visited!
And none of them had everything you'd want to find, under one roof, including your room and meals, supervised by medical doctors with holistic training. You don't pay "a la carte." Everything is included in your stay. Enjoy a gala dinner and in-house concerts.
You don't have to have to be ill to benefit from a stay here. The Wellness Retreat and Liver Detox includes your room, 3 special meals daily, and daily treatments and consultations. You'll leave feeling fantastic!
I highly recommend this Liver Detox protocol, a specialty Dr. Wiechel is known for. Everyone can benefit. Food will be low-carb, fairly low-fat, low-protein, high-fiber, and easy to digest, while your body prepares to eliminate crystalline structures before they can do harm. You'll be gently guided with surprisingly delicious, vegetable-intensive meals towards a "liver flush" at the end of the week. You'll go home with a significantly rehabilitated liver.
And you need that. Your liver serves you in more than 500 ways!
The clinic owner, good friends of mine, will take our group for sightseeing excursions at some beautiful, fun locations. You will want to take hikes in the morning, right outside the door of the clinic, and enjoy the most amazing scenery you've ever seen–and the owner takes us to close-by morning hikes with waterfalls and quaint villages.
It's easy to spend more than this for a vacation with no health benefit besides the R&R. I am so pleased with the value received at Paracelsus al Ronc—a vacation and health reboot all in one. And, I love getting to spend a lot of time with just 15 GreenSmoothieGirl readers each year. I'll teach a class or two, and I'll talk about anything that's on your mind.
There are only 15 rooms available, so I expect this retreat to fill up. Reserve a spot with a $1,000 transferable, but nonrefundable deposit, since we'll be turning others away. If you are not accepted for some reason, your deposit will be promptly refunded.
Now, I promised you SIX SECRETS OF THE SWISS. What I've learned, spending months at this clinic and the surrounding area, is that this is why Switzerland has one of the lowest obesity rates in the world (they're all skinny!), and they're also the richest nation in the world–we could learn a few things from them:
They eat fresh, whole foods. (Not always. Lots of them are smokers, and they do have their pastries. But even their pastries are made with flour that hasn't been hybridized, and Europe closes its doors to GMO foods. And they don't think of the drive-thru as a meal.)
They work more hours than the French, but they get outside, and they walk. A lot. Sometimes uphill.
They might have coffee, but it's a small cup or two, in a day. (Not 4 Grande Lattes.)
They tolerate little drama. They're prompt, efficient, and discreet people.
They don't think that homeopathic, or natural, medicine, is for weirdos. It's often their first line of defense.
Nobody around them is fat, so there's no whole communities of overweight people "normalizing" that epidemic like we have in North America.
Let's learn together, enjoy each other's company, and you'll literally SEE the difference in the health of your blood (using darkfield live blood analysis), from your intake to your final exam. I go home feeling like a million bucks every year–come join me next June!
Note: If you have cancer, MS, lupus, fibromyalgia, or any of the many other disorders the doctors at Paracelsus al Ronc treat, or want specialized blood testing and other labs or tests when you are there, the medical staff will recommend specialized treatment, for which you should expect to pay more.
What People are Saying About Paracelsus al Ronc