Connect with our concierge, Margie Stewart. She will send you information on deposit, clinic, accommodations, and travel details.
Paracelsus al Ronc is the perfect place for R&R
...but you're also getting sophisticated diagnostics and personalized care, M.D.-supervised European holistic inpatient treatment and an amazing liver detox while eating clean food you're actually enjoy. You'll enjoy the company of other successful entrepreneurs in the wellness space.

Co-hosted by Mindshare Collaborative's JJ Virgin and GreenSmoothieGirl's Robyn Openshaw
Nothing compares to Paracelsus al Ronc...
I've been to many clinics with very competent care before, in a 3 1/2 year research tour of facilities that treat serious disease holistically. Nothing compares to this amazing place. The treatment price I've negotiated is amazingly low, even lower than subpar Mexican clinics I visited.
And none of the 18 clinics I researched had everything you'd want to find (as a cancer or other patient) under one roof, including your room and meals, supervised by medical doctors with holistic training. You don't pay "a la carte." Everything is included in your stay (unless you order a full-body hyperthermia or other additional treatment in advance).
It's easy to spend more than this for a vacation with no health benefit besides the R&R. I am so pleased with the value received at Paracelsus al Ronc—a vacation and health reboot all in one.
We'll have some formal evening mastermind sessions, but also 3 meals a day together and lots of relaxed time sitting out on the deck, where the best, informal masterminding happens! So bring your questions and challenges and talk them through with us.
You'll have no breakout sessions, just 3 meals a day and lots of relaxed time sitting out on the deck, with your peers. As you know, the best masterminding happens informally! So bring your challenges and talk them through with others who have the answers.
Walk out the front door of the clinic to the most beautiful hike, with goatherds and quaint villages--and bring your "buon guorno" because you're in the Italian quarter. The clinic owner takes us a few times to even more spectacular hikes close by, with waterfalls and amazing villages, etc.
The chef is Michelin-rated and you can't believe how good "liver detox" food can taste! Dinners are multiple courses, and Saturday night is an amazing Gala dinner with live music, where you celebrate having completed your liver flush. (You'll be given instructions to start the diet at home, a few days early.)
Between treatments, hang out with your peers on the deck, for the view and the good company, take a long nap, or hike in the sunshine.
What People are Saying About Paracelsus al Ronc
Attending al Ronc was an experience of a lifetime. As my husband attested, he gave up his week of Italian food and wine we'd planned for afterwards in favor of extending our stay at al Ronc. And it was exceptional.

Dr. Weichel not only is a world-class clinician, but she also cares tremendously and compassionately for each patient she sees. This care and compassion is also reflected in her staff as they cared for us through the many different treatment modalities offered.

Al Ronc is the perfect place to unplug and truly find rest. The setting is a serene mountainside nestled between two 13th century villages. Options for scenic walks abound right outside the front door of the clinic. There was a healthy balance of treatments and down time to enjoy the outdoors, go on some great hikes and field trips with Ulf, make use of their sauna, or do nothing at all. All meals are provided and deliciously prepared by a Michelin rated chef right at the clinic and whether you're sitting on the deck off your bedroom or off the dining room-you are surrounded by breathtaking scenery.

As much as I loved attending, I am deeply grateful for the diagnosis, ongoing care, and motivation to help get us to a healthier place. I can't wait for the next visit!

(John and Margie Stewart have now gone to Al Ronc three times!)
--Margie Stewart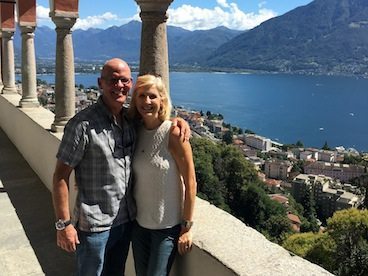 So take my review with a grain of salt, because I'm the guy that went to put up with a week of detox with my wife in the Swiss mountains so we could "re-tox" in Italy the week after!

We completed the liver detox protocol in the first week and I felt so much better I agreed to cancel the Italian "re-tox" and stay another week at the clinic to start some heavy metal detox.

Dr. Petra and her staff are incredible. She's very knowledgeable, has been working in the field for 25 years, and takes a sincere interest in you as a person. I found her explanations, write ups, and blood work/ testing very thorough. I feel like I got a complete review of my health and the underlying causes in a way I couldn't in America. She was able to diagnose some significant health issues I needed to pay attention to that I was completely unaware of. It really did exceed my expectations.

The view off the balcony is phenomenal! There's a lot to do--hiking, sightseeing, and you get a local tour guide with Petra's husband, Ulf. The food is good (once you get over giving up the cheeseburger, French fries and a chocolate shake). I wouldn't have thought you could make vegetables taste that good.

There's a beautiful town directly above the clinic that you can walk through and see the church tower and tremendous "the hills are alive" view of the valley.

Robyn does a great job of integrating you with the facility and staff since she's been there frequently in the last few years and understands the procedures. On a personal note, Robyn was also really good about putting up with my "all things in moderation" speech! I really enjoyed my time at al Ronc!
--John Stewart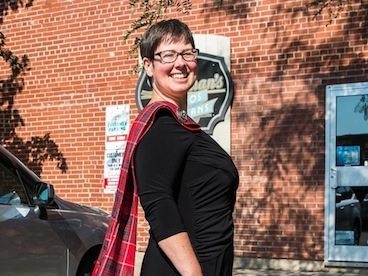 My time and experience at Paracelsus Al Ronc Clinic was like none other I have had before. All of the staff took such care of me. I felt like a person, not a patient, which was such a wonderful feeling. All of the food was amazing. The kitchen and serving staff do a fabulous job of preparing and presenting all of the food.
The facility and its location are far and away above any I have been to before. The fresh air, the mountains, the clouds, the church bells, and the wild life all helped me to relax and unwind.
The Liver Cleanse has given my body a "reset" to a healthier place. I learned so much both at the Clinic, as well as through the pre-arrival diet. My body is now functioning at a healthier level. I have kept certain liver cleanse foods in my diet as my body craves them.
I will definitely be returning next year.
--Beth Grant, Ottawa, ON Canada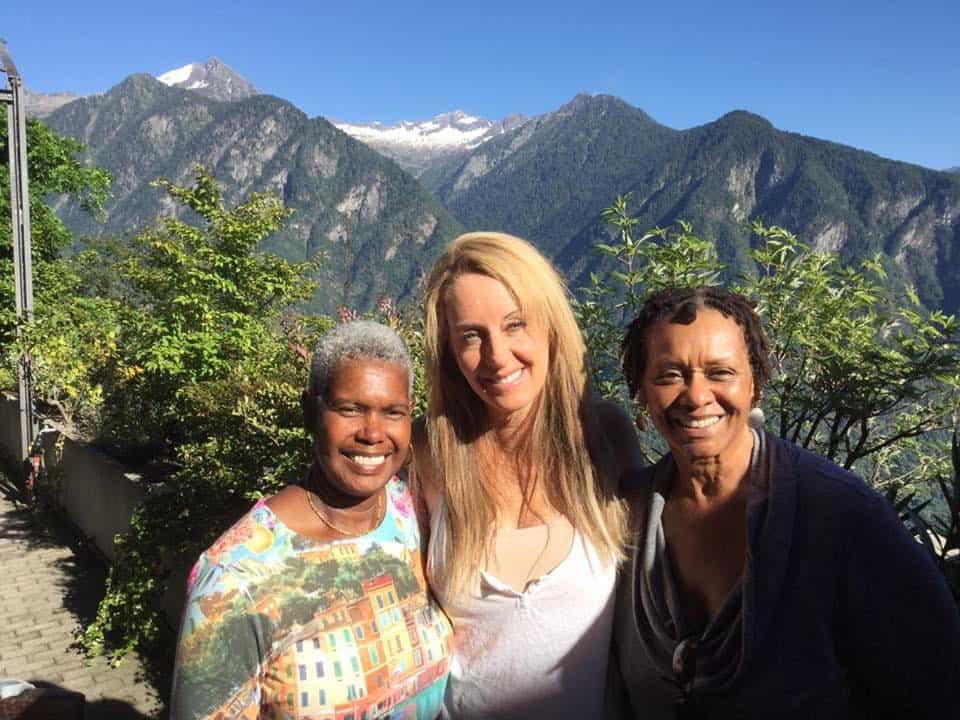 A year ago I developed not only a serious skin condition, but also food intolerances to food necessary for good health and balanced nutrition. The only option the medical community offered me was drugs, steroids, avoiding the sun, and avoiding healthy food. In my search for alternative ways of healing, my friend, Ella introduced me to Robyn, the Green Smoothie Girl. Through Robyn I learned about her liver detox week at Paracelsus al Ronc in Switzerland. An unanticipated visit to this phenomenal homeopathic medical center became a reality. They were able to pin point the source of my intolerances, provide me with the correct detox and treatment plan, and help me through an intensive medically supervised liver detox.
Paracelsus Al Ronc was a lifesaver for me. I have closely followed the protocol that the Clinic sent me home with. I am today enjoying the local life-giving rays of the sun, allergy free, and able to enjoy healthy nutritious meals. Thank you Paracelsus and thank you, Robyn!
-Eugenie Simmons, Bermuda
I have never felt more at peace, grateful, and truly connected and healthy in body, mind and spirit than when I was in Switzerland at Paracelsus Clinica al Ronc.

Although I was far away from home, I felt so at home at al Ronc. Everyone there is so warm and open and welcoming. Everything they do is to help you feel comfortable, safe and happy, be it serving you some of the most delicious meals I've ever eaten or inserting a needle in your vein for an IV mineral infusion or getting a massage or enema or any other amazing type of treatment they have.

Everything is done with love and kindness and with a sincere desire to help you heal in body, mind, and spirit. Everyone is very well trained and works hard to find the right care and solution for you as an individual.

The atmosphere alone, the breathtaking view of the Alps, not to mention the flowers, trees, and gardens so well maintained around the clinic area itself all bring peace and healing just by being there. Although it was fun to go off on excursions into some local towns and do some sightseeing and such, often just being at the clinic and having time to myself to rest and relax to think and feel was by far my most favorite place to be. That and going on some early morning hikes in the area!

Anyone who is looking for an opportunity to find true healing in body, mind and spirit should definitely find a way to go spend time at al Ronc. I'm already planning for when I can return again!
---Sue Squire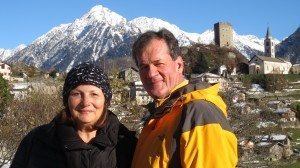 Cheryl and I were very pleasantly surprised from our two weeks with Dr. Petra Wiechel and the Paracelsus al Ronc clinic. Cheryl and I are active, fairly healthy, and 63 years old.

We learned so much about ourselves and our health. What started out as a learning experience to help Cheryl with an autoimmune liver disease, quickly turned into a holistic ("biological") approach to life. Issues dealing with prescription medications, cholesterol, high blood pressure, arthritis, gout, weight, and energy were quickly and often discussed with Dr. Petra and her colleague Dr. Shultze. Rationale, lifestyle changes, and organic supplements were discussed and implemented.

In the three weeks since I started the liver detox at Paracelsus al Ronc, I have lost 15 pounds, eliminated the statin drug, have lower cholesterol and blood pressure (latest reading of 110/70 is the lowest in many years), plus I have more energy than in years.

We loved the clinic. Our experience was greatly enhanced however, by the GreenSmoothieGirl group you assembled, by you sharing your knowledge and experiences, and by biological doctor Jared Nielson from Heber City Utah in attendance. I would recommend this experience to anyone, and suggest the experience is enhanced by having other GSG participants in attendance.
---John (and Cheryl) Thackeray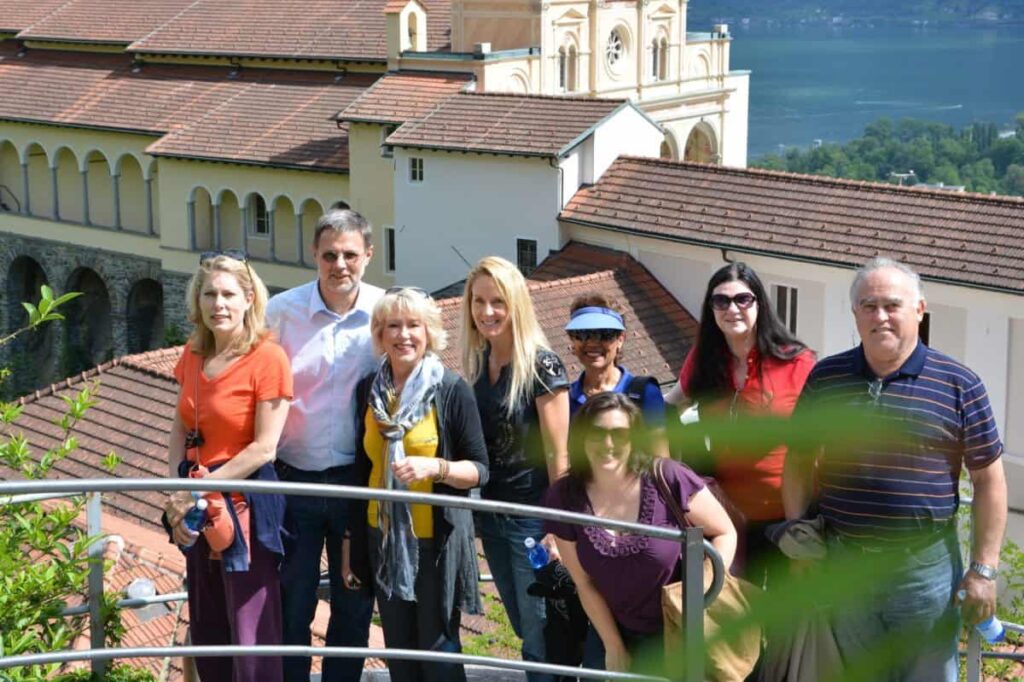 "I arrived at the clinic without hope or a future, with Stage 3C colon cancer. After I spent two weeks there, I felt wonderful and strong. My spirits were high and I was able to cope with my cancer. Going back several months later, I completely trusted Dr. Petra and personal care for me around the clock by all staff, their followup on my wellbeing and my file. I always leave for home feeling strong. I am planning to run a 10-mile race in just a few weeks! Paracelsus al Ronc is a place where you can find peace and tranquility above a beautiful, secluded valley, in the snow-covered mountains. You feel like you are suspended between Earth and Heaven."
---Dagmar S. from Montreal, Canada
"I went to Paracelsus al Ronc for the Liver Detox program. I do a detox somewhere, every year, so when Robyn organized this trip, I decided to follow. How was my trip? PHENOMENAL.

For one thing, the scenery, OMG! Every morning I woke up to a perfect view of the snow-capped Alps. Breathtaking! I came home in better physical shape thanks to the hikes. Second, the food---no detox program I've done before actually had good, let alone delicious, food! Everything was organic, grass-fed, local-farm-produced. I know, because I went in the kitchen and investigated everything!

Each meal was served as though we were at a gourmet restaurant. We had a dozen fruits, and over 30 different vegetables! Sprouts, chestnuts, gluten-free, yeast free breads, goat and sheep organic cheeses.

Forty different treatments! What did I accomplish, going all this distance? The difference here is that they cleanse , and then they REHABILITATE. In the past, I got a cleansed liver, but the 40 treatments will help the healing continue. I highly recommend this program, an amazing value."
---Madeline W. from Chicago, IL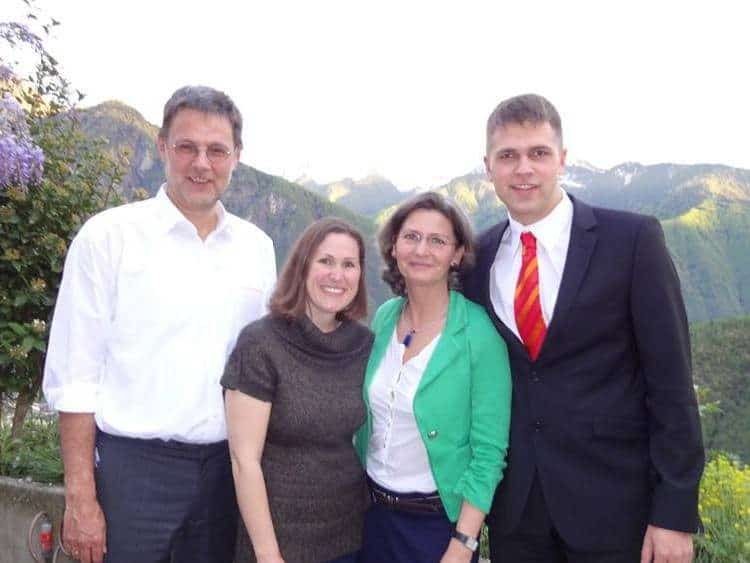 The healing and quality of care I received during my stay at Paracelsus al Ronc was like nothing I have ever experienced before. Every detail was taken care of from the time we landed at the airport in Milan to the time they dropped us off at the airport two weeks later. We were fed and nourished, rested and relaxed, healed and revitalized. In fact, I felt so well taken care of that I didn't want to leave when it was time to go home. To remedy that I am planning a return trip in a year– next time with my husband. I won't allow him to miss out on this incredible experience.

Besides being spoiled with the close proximity of my room to the treatment rooms, (where I would walk a few steps for my daily appointments), I enjoyed the same spectacular and serene view in the treatment room that I enjoyed in my sleeping room. It was so great to be massaged while looking at the peaks of the Swiss Alps. And not only did it LOOK beautiful, it FELT relaxing, mainly I think because of the positive attitudes of the staff and practitioners. (Not what you'd find in your typical clinic or hospital, that's for sure). They were friendly and happy and I could tell they enjoyed their work.

They were never rushed or on edge– just caring and competent with the few patients they worked with each day. This relaxing environment of the people and the place, along with the various detoxification modalities employed, (not to mention the GOURMET FOOD), led to the healing I was hoping to receive. I was never stressed or wanting for anything. Indeed my body was in the perfect environment for healing, and heal I did.

During those 14 days, every need I had was attended to in a kind and skillful manner. There was one particular night that I had muscle pains after a chelation treatment so I called the front desk and asked for help after hours. Dr Petra Wiechel brought a packet of magnesium to my room to replenish the minerals in my body and the muscle pains went away. The entire time I was there I trusted the holistic methods they gave me to work. Thanks to their detoxification protocol, I feel cleaner and brighter and smarter than I have in years.

Not confined to a tight schedule, I had the independence to come and go (to the workout room, to the sauna, to the meditation room) as I pleased, but there was enough structure to make me feel accomplished by the end of the day. There was plenty of time to socialize at meal times and enjoy quiet time alone with a book in the forest. Perfect for extroverts and introverts alike. Even the need for entertainment and fun was met, with Friday evening concerts, gala dinners, and shopping and sightseeing excursions to the nearby cities.

Paracelsus al Ronc truly provides the total package. They have the stunning beauty of a world-class resort, superior competency and care, and the latest and greatest in biological therapy. I can't recommend this place enough! Go as soon as you have the chance.
---Amanda Olsen, Boise, ID
I'd been wanting to do a cleanse for some time. I chose the liver cleanse at Paracelsus al Ronc solely based on Robyn's recommendation because for me, that was all I needed. I had been to one of Robyn's talks and knew of her dedication to holistic methods. She saved me from having to do the research on my own. I knew I would not be disappointed. Paracelsus al Ronc was all that I hoped it would be. I do not know that I'd be able to duplicate the experience anywhere else, especially in the areas of food quality and adherence to holistic principles and treatment methods. We all loved and benefited greatly from the expertise and compassion of Dr. Wiechel, Naturopath Anila, and all the therapists.

The facility was beautiful and made the treatments and cleanse so convenient and easy. My room was wonderful and as promised, did not feel at all "clinic-like". The view never disappointed. Best of all, I returned home feeling refreshed, renewed and committed to continuing on the healing path that got a great jump-start while at Paracelsus al Ronc.
---Denise from Mexico
Paracelsus al Ronc is a paradigm of healing, love, science, and hope. That's such strong juxtaposition with a medical establishment pimping orthodoxy, profit, and greed. Dr. Petra Wiechel and her family have created an oasis of peace and health in a superb clinic that spills 7 stories down a steep mountainside, amid the most spectacular scenery and freshest air in the world.Each room is warmly decorated and has an optimal view of the valley. The food is fresh, imaginative, delicious, and customized for your program. The Wiechels have set a tone of love and peace that infuses the staff and guests.

Facilities and housekeeping are first rate, and most of all, Paracelsus al Ronc is reasonably priced compared to most clinics where there is often shameful gouging of frightened terminal patients. I was subjected to comprehensive testing, diagnosis, detoxification, oxygenation, and myriad treatments tailored to my condition and my schedule.

I returned home revitalized and buoyed by my experience, and deeply grateful.
---Heinz Valenta
It was my good fortune to find out about Clinica al Ronc. I was intrigued by the liver cleanse because it was something I wanted to do, after having chemotherapy in 2009.Whenever I am asked about my experience, I use the expression, "It's where heaven meets the earth" because you are literally above the clouds when you wake up. My body was cleansed and healed, my soul nourished, and my heart warmed by the expertise of Dr Petra Wiechel, Anila Lohn and all of the therapists, in such stunningly beautiful surroundings.The food was so well prepared and healthy, served by wonderful Jack, who came to work at 6 am the day we left, so that we could have breakfast, and a lunch to take on the airplane, so we would continue our healthy eating till we got home. I miss the salad buffets!

Such care and concern was also delivered by Mr. Ulf Wiechel, who took us on outings, held umbrellas when it was pouring, all while carrying our bags.

I am truly grateful for this amazing experience and for the camaraderie of our group. Thank you Green Smoothie Girl!
---Rose K. from Minnesota
Don't miss out, join us this June!
Get all the details by entering your info below.