My Healthy Holiday Menu keeps you on track this season!
Enter your name and email for instant access to the Healthy Holiday Meal Guide! You'll love hosting a guilt-free gathering this holiday season!
Quinoa Stuffed Acorn Squash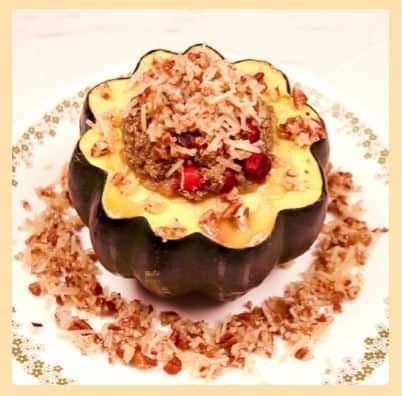 5 C vegetable stock
2 tsp. ground sage
2 tsp. ground thyme
1 ½ tsp. ground rosemary
1 ½ tsp. sea salt
½ tsp. freshly ground pepper
2 C quinoa, rinsed well
1 C fresh or frozen cranberries
4 acorn squash
½ C grated Parmesan cheese (optional)
½ C chopped walnuts or pecans
2 Tbsp. maple syrup
DIRECTIONS: Preheat your oven to 375°. Place the stock, dried herbs, salt and pepper in a large pot, and bring it to a boil. Once boiling, add the quinoa, and cover, reducing the heat to a simmer. Cook according to package directions (approximately 15-20 minutes), until tender. Once cooked, remove from the heat, and stir in the cranberries. Set aside.
While the quinoa is cooking, slice the tops off of the squash. Remove the seeds and pulp from the inside of the squash, and stand upright on a sheet pan. If necessary, slice a tiny piece off of the bottom of the squash to help it stand.
Stuff each squash to the brim with the quinoa filling. Bake for approximately one hour, until completely cooked through. Meanwhile, combine the cheese, walnuts and maple syrup in a small bowl.
Take the cooked squash out of the oven. Evenly distribute the walnut mixture over each squash. Return to the oven and bake for an additional 10 minutes, just until browned. Serve hot or at room temperature.