Frequently Asked Questions about Group Buy
Please read the product description for product details. We've compiled the most pertinent answers about the GreenSmoothieGirl group buy.
Choose a question or scroll down to read all FAQs.
Q: When is Group Buy?
A: See the Group Buy Page
Q: How to join Group Buy
A: Anyone can order Group Buy items. No joining required. For smaller quantities or to save on shipping, find a buying club, co-op, or group in your area through the Group Buy Forum.
Q: How does Group Buy work?
The GreenSmoothieGirl.com Group Buy is an annual buying opportunity we arrange by purchasing large quantities from and maintaining good relationships with our whole foods suppliers, which enables us to get low prices. These low prices are offered to you and we only charge enough to cover our shipping costs. It's part of our mission of health.
Individuals may purchase directly from the GSG Shop. Most bulk items are 25 lbs, which may be too much for some individuals. For this reason, we provide a GB Forum, and suggest ways for our whole-foods customers to join or coordinate a local group order where the large quantities can be split between several buyers.
Q: Group Buy Products
Q: Is there a minimum order?
A: No. But quantity varies by item. For example, most bulk items are 25 lbs. You cannot buy less than 25 lbs. unless you split an order with friends, or join a buying group. See the section called Stock Up For Free – Organize A Buying Club! on the Group Buy page. See FAQ about starting or joining a group via the Group Buy Forum:
Q: How much is shipping?
A: It depends on order size. Our online store calculates shipping by location and weight. Click Calculate Shipping to see shipping costs before submitting your order.
Shipping is free for orders of 1,000 lbs. or more, within the continental United States.
Q: How can I get lower shipping?
A: Orders of 1,000 lbs. or more ship free, within the continental United States.
Q: Can I pick up my order?
A: Local Pickup may be offered for Group Buy. The pickup schedule will be outlined on the Group Buy page.
If available, choose PICKUP as the shipping method when you order. A $5 processing fee helps us provide this option. You need not live in Utah to select the Pickup option. Family or friends may pickup your order.
We will send an email notice when your order is ready, with pickup times and directions to the fulfillment center in Orem, UT. See the Group Buy shipping schedule for pickup times.
Q: When will orders be delivered?
A: See the Group Buy Page for delivery and pickup schedule.
Group Buy is not designed for fast delivery. The goal of Group Buy is to save health-conscious buyers money. We do not guarantee expedient shipping and do not recommend using Group Buy for time-sensitive orders, but we diligently process orders in the order they are received.
We will send email notification with tracking info to the email address you provide with your order. If the shipping confirmation email contains a note that your order is shipping via freight, you may be contacted by the delivery company to schedule the delivery time.
Group Buy time is busy. A variety of factors affect Group Buy shipping time frames. Please do not inquire about shipment of your order unless you have received a shipping confirmation with tracking information that indicates a problem. In those cases, contact Customer Support.
Orders containing Group Buy items will ship per the Group Buy shipping schedule. If you wish to receive non-Group Buy items before the Group Buy shipping dates, place a separate order for the non-Group Buy items.
PICKUP: We will send an email notice when your order is ready, with pickup times and directions to the fulfillment center in Orem, UT. See the Group Buy shipping schedule for approximate order pickup dates.
Q: Will all the items ship together?
A: Yes. (We may ship a partial order if an item is backordered. We'll ship the backordered item when it is restocked.) If your order is large, it will be packaged in multiple boxes. We cannot control the delivery logistics once it leaves our warehouse, so boxes may arrive at different times.
Q: How to Check out via PayPal?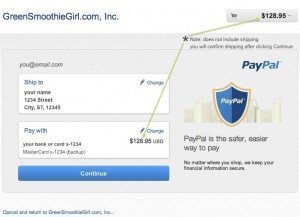 A: From the GSG Cart, click the button, Check out with Paypal
You will be taken to a PayPal page (log in if needed)
Change or confirm shipping address and payment method (the price shown may not include shipping charges)
Click "Continue" – this does not submit the order
You will be taken back to GSG.com to review and submit the order
Review the order
Place Order
Q: Can I buy less than 25 lbs? I want Group Buy items, but not in such large quantities.
A: We only sell the volumes listed. We provide a forum to help you locate groups, buying clubs, and co-ops in your area with whom you can split orders: Group Buy Forum You may reply to members seeking others, and let others know where you are and how to contact you. The forum allows others to contact you about ordering with you, and tell you about nearby co-ops dividing orders into smaller quantities.
Q:  How do I join or start a co-op?
A: We have set up a forum for that purpose. Group Buy Forum Indicate on the forum whether you want to organize the co-op or join one organized by someone else. Coordinators can calculate prices, email members, break orders down, and arrange for pickups. We have provided GB Forms and Worksheets. Coordinators can use these to organize a group order with friends and community, and also earn some income. The forms make it easy for organizers to set prices for their group. (We recommend a markup of 20% or less.) To organize a group, ask someone you know interested in health and nutrition, and ask that person who she knows, and so on. Networking can yield a large list of people who want to participate in your group buy. You can reuse and maintain the list of people to do group buys in the future. At a minimum, Coordinators should be able to get your food free, with a little effort.
Q:  When does Group Buy close?
A: Last day for ordering: October 25, 2014 for this year's sale.  Some items may sell out before then.  We have a fixed and limited supply of all items so order early!
Q:  When is the next Group Buy?
A: Subscribe to the GreenSmoothieGirl.com newsletter, which is the main place I communicate about that.  I write about group buys, classes I teach, and more in Robyn's Blog on the site.
Q:  Can I pay by check or money order?
A: Yes.  Place your order via the GSG Shop.  Select "Check or Money Order" as the payment method.  Make the check payable to GreenSmoothieGirl.com.  Mail to GreenSmoothieGirl.com, 51 W. Center #345, Orem, UT 84057. Do not mail your order, place your order online.
Q:  I am collecting checks from lots of people. Can I send them all to you?
A: No. If you are paying by check, send one check to pay for the entire order.  Group Coordinators must collect payments from group members.
Q:  Do I have to be in a buying club?
A: No. Anyone can purchase Group Buy items.
Q: Can I add to my order later?
A: No, but you can place a second order. Hold your order until you think it is complete.  We understand if stragglers join your group later, but if you need to order more, you will need to place a second order.
Note to group Coordinators: I personally order extra of popular items when I coordinate a group, because I always have people come to me after ordering closes wanting to purchase. But of course it's up to you whether you want to risk having excess items. If you find yourself in that predicament, you can offer the leftover items to your group. As my group has grown, I'm able to take that risk because someone will always buy the extras. I always have people ask me later, after the order closes, whom I cannot accommodate.
Q: Will I be charged sales tax?
A: Utah residents pay food tax.
Q: Do you ship to Canada?
A: Sorry, no. Some Canadian residents have their orders shipped to Letterlock or Mailboxes Etc. in the U.S. and then go pick them up.
Q:  Which items are organic?
A: Read product descriptions to see which are organic. If organic is not specified in the product description, it's not organic. Usually, the honey isn't certified organic because bees can range for several miles (possibly going into areas with sprayed plants) but the beekeeper does not use chemicals on his property.
Q: Which items are Gluten Free?
A: If gluten free is not specified in the product description, it's not gluten free.
Q: What is the return policy for Group Buy items?
A: Group Buy items cannot be returned. Order Terms
Q: Is it legal to buy unpasteurized almonds?
A: California law allows a rancher to sell no more than 100 lbs. per person per day directly from the farm. We are facilitating that opportunity with this group buy. If you wish to buy almonds, you must provide a customer name for each 100 lbs. or portion thereof. Almond growers are very unhappy with this 2007 law, which incurs cost for them, and they sued the government, but lost. (Keep in mind that the law does not prevent you from buying—it puts restrictions on ranchers for selling.) Draconian government tactics to fumigate, irradiate, and pasteurize our food supply will continue to be an issue and will protect us from few if any health "risks," since raw plant food is our insurance against disease. Pasteurizing and irradiating will serve only to destroy enzymes, the life-giving force in raw food, and consequently damage the public health. The almonds in this group buy are frozen instead of fumigated, and are completely unpasteurized.
Q: How long do almonds keep, and how should I store them?
A: These almonds are coming right off the tree in October and will therefore be VERY fresh. Because almonds harvest only once a year, whenever and wherever you buy them throughout the year, they will be from this same fall crop. (The other Group Buy items are very fresh as well.) They may keep 9-12 months in the pantry, but if you would like to keep them as fresh as possible, plan on them keeping in tightly sealed bags or jars in the fridge for 18-24 months, and indefinitely in the freezer. They will still germinate (sprout and unlock enzyme potential after soaking) after freezing with very little loss of nutrition.