"GreenSmoothieGirl" Robyn Openshaw speaks all over the U.S. If she speaks at your event, she will publicize it to tens of thousands of regular newsletter and blog readers and also ask that you promote it well, to your audience.
Her lecture is fun, high-energy, and inspirational. She tells her story that shows the audience that their own experience with the effects of the modern diet, can be turned around into miracles and restored health.
She shares facts and statistics from her research of the benefits of eating plant foods in their natural state, and easy ways to do that without spending a fortune or hours in the kitchen. And she demonstrates a simple habit that has changed thousands of lives—and lets the audience sample.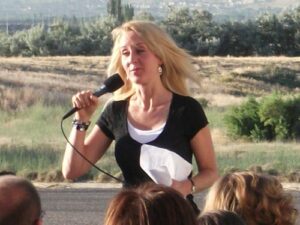 Audiences leave excited to implement strategies to address their nutritional deficiencies that and massively reduce risk of cancer, heart disease, auto-immune disorders, and obesity.
Robyn tends to travel where she has readers interested in setting up events for her. To travel a distance, she prefers:
Two or three locations (on a Friday night, Saturday morning, and Saturday evening, for instance) at least 90 minutes apart, in high-density metro areas.
Robyn's lecture/demo is 90 minutes, and then people stay for 90 minutes after to ask questions and get their books signed, while staff cleans up.
It's very helpful when a reader will help locate:

1. A sponsor of the class (usually a health-related business, like a naturopathic or chiropractic clinic, yoga studio, or health food store). Robyn will promote them. They pay the rent on the location and/or obtain the ingredients for the demo. We will provide them a flier, with their name on it, to distribute to their own audience.
2. An affordable location to seat 100 in a mid-size metropolitan area, or 200+ in a very large metro area or a place Robyn has spoken before, like Dallas, Boise, Salt Lake, Seattle, Mesa, or Portland. The places we usually get are churches, rec centers, auditoriums, yoga studios, school cafeterias, or conference centers.
We will contact you if we are able to make a visit to your area, thank you so much for your interest!