The GreenSmoothieGirl 26-day, Full-Support Detox: safely and easily clean house, and lose 7 to 20 lbs!
Most of us are in a state so undesirable—but so common—that we've accepted it as "normal".
You're tired all the time, and way too young to be so tired.
Your weight is over your ideal, and trying every fad diet hasn't worked.
Your digestion isn't really working, but you don't know how to fix it.
You often feel depressed, anxious, or overwhelmed by everyday life problems.
What if these conditions weren't necessary and were easier than you thought to turn around? Toxic sludge has built up in your digestive tract, and chemicals have accumulated in your liver, kidneys, skin, and lymphatic system. Your blood is circulating toxic fragments round and round. What if there's a way out?
The GreenSmoothieGirl Detox is 26 days of the most productive rest-and-repair you've likely given your body in an entire lifetime.
Take the journey and you'll get support from experts, recipes that taste good, and detailed instructions! It's based on good science and safe, effective detoxification.
Participation Level
Lifetime
Membership
Full Support for 2
Membership
Full Support
Membership
Manual Only -
Print
Manual Only -
eBook
Manual*
Quick Start Guide*
Detox Portal Support forum, Q&A calls,
daily content

Lifetime

3 months

3 months
Wallet Card*

 Ingredients to avoid shopping

Menu Planner*
Skin Brush & Chart*
More Info
Join every group Detox or on your own anytime.
Two of everything. Save!
Availablility
USA
USA
USA
USA
USA & International
Price
$599

$399


for 3 months

$299


for 3 months

$129

$89

* Bonus items and printed materials are for initial purchases. Upgrades do not include the items. Full Support memberships include an option to upgrade to Lifetime Membership at the end.

The Full Support Detox Membership is a colon, liver, kidney, and gall bladder cleansing program that includes:

Robyn's Detox Manual

Menu plans, recipes, and shopping lists
Recipe photos
Your body's detoxification and elimination systems.
Toxins, the body's Toxic Load, sources of toxins, and how to avoid them
The dreaded "cleansing reactions," what they are and how to sail through
Where most detox programs go wrong, what to avoid.
Recipes, tips, and videos on replacing toxic cosmetic and home products
Changing your personal "set point" for your weight.
Habits that help your diet purify and restore organs of elimination
Food-elimination process to identify your food sensitivities
Transitioning back to "real life" without falling into old habits
Frequently Asked Questions
Chart of foods to eat freely, sparingly, and not at all

Quick Start Guide with menu plans, recipes, shopping lists
A laminated wallet-sized card to take shopping, ingredients to avoid in cosmetic and self-care products
Detox Portal is your access to all detox information and resources online
Support from Detox Staff and participants in the forum to answer questions and optimize your experience
Daily email from Robyn with helpful content
Videos and Audios featuring detox-expert doctors
Buddy Connection find a buddy for support and meal-prep sharing
Detox Companion Kit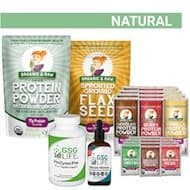 Enhance your Detox experience with a Detox Companion Kit, and save! Includes the right amount of each product used in the Detox recipes to maximize your results.