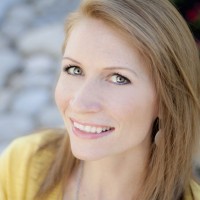 Sarah has been the neighborhood "go-to" mom for several years when it comes to nutrition and holistic remedies.  Her own journey to health began when she became a mother and felt uneasy with the many food-like-substances that modern culture called food for babies, which she initially participated in.
An avid researcher, she read voraciously, to discover the best way to feed her family. After trying many supplements and shakes with unfound promises, she came across GreenSmoothieGirl.com and implemented Robyn's 12 Steps to Whole Foods within a matter of weeks. Sarah realized not only the sound science behind the suggestions, but also achieved incredible health changes for her entire family.
Sarah is now a Certified Health Coach and a graduate from the Institute for Integrative Nutrition with distinction from the AADP (American Association of Drugless Practitioners). She brings to the team a passion to empower through education.
Robyn says, "Sarah loves seeing the lightbulb go on for people in her life whom she is able to help. She's a great example—she looks like what all the other young moms want to be, and she's educated and passionate and also just FUN."
With a master's degree in Education and teaching experience in both public schools and private piano settings, she's excited to take the Green Smoothie Girl mission, to kick the SAD (Standard American Diet) to the curb, to audiences in Texas!
When not growing sprouts in her kitchen, Sarah can be found wrestling with her two boys, jogging with her husband on a beautiful Austin trail, or making music at the piano.
Sarah is available for the following types of coaching:
Phone Coaching (individual)  $50/hr. 1 hour – $50, 4 hours – $180 (save 10%).
In-Person Coaching (individual)  $499 for six sessions (includes digital 12 steps, 32 oz GSG bottle, health food store tour, personal plan w/ Zyto scan, email support)
VIP Classes – small group (choose 4 or 8 of our classes, or talk with your coach about what you want to learn).
$50.00–$499.00 Select options