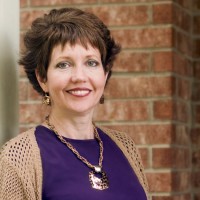 Marlyn (pronounced Marilyn) incorporates all-things-GreenSmoothieGirl into every aspect of her life. She home schools the youngest two of her six children and would tell you she has a lot more energy to devote to these children, at age 48, than she did twenty years ago. Upon becoming a GSG "12-Stepper", she lost 35 pounds, balanced her hormones and no longer wakes up with aches and pains. She gained a heightened sense of mental clarity and emotional confidence. Her 4 grandkids think she's the most fun grandma around!
Marlyn is a connector and an organizer and does everything in a big way with a big heart. It's not uncommon to find Marlyn in front of large audiences teaching sprouting and cultured foods classes, or just spending one-on-one time with someone helping them find healing through essential oils. She organizes large food co-ops to help bring healthy products to her community and is highly sought after in Houston for her services. In fact, Robyn came to know Marlyn after GSG fulfilled her 7,000 pound order!
Marlyn lives in Houston, but travels around Texas regularly for her children's basketball tournaments and many GSG classes. She has also developed a passion for helping others through energy profiling and holistic healing.