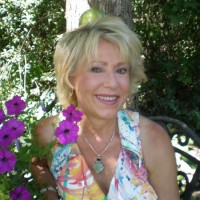 Madeline started learning about "real" nutrition in the 7th grade. And that was a long time ago, because she is 69 years old, though she has the energy and radiance of a much younger woman.
Madeline's mother was taking nutrition classes then–and needed someone to experiment on. Even at that young age, studying about health totally fascinated her.  She did get sidetracked by a career in teaching Spanish and French.  But once she retired, she had more time to continue her exploration into the world of juicing, detoxing, raw foods, and finally–her favorite discovery–green smoothies!
She hated wasting all her knowledge inside of just her.  So, she combined a life-long passion for health  with her teaching experience, and began giving lectures and classes in the midwest. Madeline is a Level II Raw Chef.  She is an ad hoc director of the 10-day Detox Program at Creative Health Institute, in Union City, Michigan, where she met Robyn, whose ecstatic reaction was, "This woman is who I want to be when I grow up! She knows more about nutrition and wellness than I do! I fell in love with her and LOVE hearing her speak."
At CHI, Madeline teaches rebounding, yoga, raw food prep, meditation, holistic healing topics, and many detox and living foods classes.
Good health is important to Madeline because she and her husband, who is 10 years older but vibrant and active thanks to Madeline's good care, are ballroom dancers, avid golfers, and love to travel.  She is also a passionate advocate for Parkinson's Disease, organizing an annual Educational Symposium and  teaching "Dancercise" classes to those who suffer with the disease.  Madeline truly loves to help people find their way to having a more healthy, vibrant quality of life.
 Madeline is available for the following types of coaching:
Phone Coaching (individual, small group)  $35/hr.  1 hour – $35, 4 hours – $125 (save 10%).
In-Person Coaching (individual, small group, classes, store tours, in-home consultation)  $50/hr.  1 hour – $50, 4 hours – $175 (save 12.5%).
VIP Classes (choose 4 or 8 of our classes, or talk with your coach about what you want to learn).
To purchase coaching from Madeline, click here.
$35.00–$275.00 Select options