How Eating Whole Foods Helps You!
Welcome to GreenSmoothieGirl.com!
What I teach isn't a diet. It's a whole-foods lifestyle you'll never want to quit. The results just might blow your mind!
My research says most people who follow what I teach have better digestion and elimination, lose weight, and have more energy.
You're likely to also notice cravings for bad food decrease, your desire to exercise increase, emotional stability improve, your skin and hair look prettier, and your sex drive increase!
Read More –>
Robyn and the Certified GreenSmoothieGirl Health Coaches teach free classes all over the U.S. At Change Your Nutrition in 10 Minutes a Day (GreenSmoothieGirl classes), be inspired and educated towards making great choices in your diet that are easy, delicious, and inexpensive. Robyn gives away $1,000 of her favorite things!
Medicine Cabinet Makeover classes teach you how to use natural, plant-based substances to replace the drugs currently in your cabinet.
Free Medicine Cabinet Makeover Classes
Empower yourself with health and healing strategies to avoid drugs and nurture your body's own defenses.
See our upcoming classes!
VIP Classes
Let us teach you a series of high-impact, easy habits! With demos, tasting, recipes and gifts to help you on your way.
See our upcoming classes!
Who is GreenSmoothieGirl?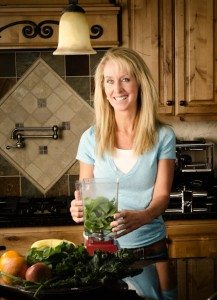 Robyn Openshaw is author of 11 titles including the bestselling book The Green Smoothies Diet and the course 12 Steps to Whole Foods.
Twenty years ago, she weighed over 200 pounds and had 21 chronic health conditions, including mini-strokes, migraines, anxiety, infertility, a large tumor, and three auto-immune conditions, which she took drugs to manage. Now she is a 135-lb. competitive athlete with no health problems, taking no drugs.
She's passionate about showing you an easy, inexpensive path to throwing the Standard American Diet out of your life forever, and rediscovering your body's craving for whole, natural plant foods. She says, "I eat more food now, at 135 lbs., than I did at 206 lbs., and I enjoy food more!"
Your health and quality of life depend on discovering your body's need for unprocessed, simple nutrition, and providing it. You can do it!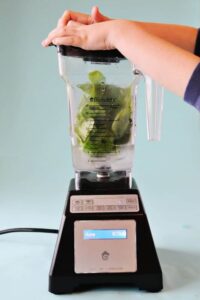 This is where I tell you the tools that allowed me to radically change my family's health. Invest in them as time and money permit, but they are worth saving for. You should know I don't recommend anything that I don't personally use and love. I tell you only about products, techniques, and habits I think are game-changers for a whole-foods lifestyle in the modern world!
Have a look around to get some ideas on how to reclaim and maintain optimal health.
Browse Favorites –>