Are you ready for this? This is BIG news. Many of our readers wait for this all year.
Every year, we provide a way for you to get RAW, UNPASTEURIZED almonds in our annual group buy. (And more really special deals, including Buy 2 Get 1 Free on ALL GreenSmoothieGirl products!)
You can't get RAW almonds anywhere else, unless you drive to a California ranch and beg for them–and probably not even then.
Why? Because retailers can buy only pasteurized almonds from California. But you say, the label says "raw!" They're not. They're flash pasteurized. In retail grocery, "raw" just means "not roasted."
Why does it matter? Why do we go to the mat to find a special almond grower or two, willing to sell fresh, non-fumigated, non-pasteurized nuts directly to our readers?
The almonds you buy in a store are ALL heat-treated, and chemically fumigated!
If you want high vibration in your food, for sustainable energy, and optimal health…you don't want to heat your food above 116 degrees.
Since 2007, California has forced almond growers to pasteurize all their nuts above 130 degrees. This kills enzymes and the life force in the nuts.
I'm passionate about teaching people to eat nutrient-dense, raw plant foods. It's frustrating that our government wants to pasteurize, irradiate, and fumigate everything with damaging chemicals and radioactive frequencies.
(While it's perfectly legal to sell genetically modified, chemically sprayed, processed food to adults and children everywhere.)
So I'm providing you a direct path to a grower who holds out a portion of his crop just for us, without heat-treating the nuts. So YOU CAN STILL SOAK AND SPROUT THEM!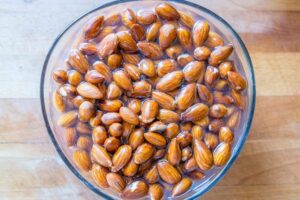 This turns your high-nutrition food into an incredible SUPERFOOD!
Here's an Idea: Make nut mylk! So easy!
(Soaked almonds and water, blended–yum! A non-dairy, anti-inflammatory topping for your granola or oatmeal with dozens of amazing nutrients.) When you place your order, I'll immediately email you Robyn's Favorite Recipes, to use all these special "group buy" items. For instance, how to make "candied" or "teriyaki" nuts that are raw, delicious snacks even your kids or grandkids will love. (I don't sell this recipe book anywhere. It's exclusive for our group buy participants.)
California produces 85% of the world's almonds. I've obtained truly raw almonds from Spain and Italy before, but they're very expensive, and we didn't love the slightly bitter taste.
These almonds we get you aren't just FRESH, just weeks out of the tree, but they're also:
TOTALLY DELICIOUS, the best almonds you've ever had
UNPASTEURIZED (California state law requires all of the state's nuts sold to retailers to be pasteurized–killing the life force, or enzymes, inside), and
NON-FUMIGATED (our rancher freezes them, instead, to make sure there are no pests or eggs)
In addition to truly raw almonds, we've got all kinds of whole-foods goodies in the 2017 GROUP BUY that help lead to your high-vibration life. So that you're resistant to infectious and chronic disease, you're minimizing inflammation and aging, and you're able to achieve flow states of peace, joy, and creativity.
(If you don't know what eating the right foods has to do with living in the high-frequency emotions yet, you must not have gotten my book, Vibe, yet, just publishing!)
Check out the almonds and all the other great deals in this year's GreenSmoothieGirl Group Buy. You're getting better prices, on better whole-foods items, than you can find available anywhere else.
(In fact, 12 years ago, I tracked this almond rancher down, to meet my own family's desire to avoid sprayed, fumigated, pasteurized almonds, but enjoy their health benefits. That's how the group buy started!)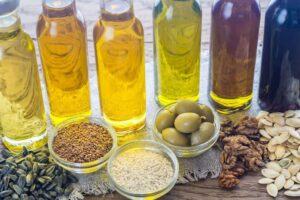 Every year, many of our readers round up orders from neighbors and friends, marking the prices up 20% to compensate them for their effort, and place a group order. As the organizer, you'll split the orders up when your order arrives on a truck, to your door–and end up getting their own order at no cost! Imagine a pantry and freezer full of the healthiest foods known to man–FREE.
Check out the forms for you to organize a buying co-op, here. A 1,000-pound order ships FREE. And the easy forms allow you to mark up 20% or any amount you want. (We recommend 10 to 20 percent.)
You may place 2017 Group Buy orders through Nov. 30. After that, we close the cart. We get LOTS of emails from people who missed it, and there's nothing we can do.
We aren't Amazon. You can't get this kind of produce and special deals on Amazon. Or at Costco. Their nuts are pasteurized, fumigated, and often are from the year before or even two years before!
So you must know that we round up orders, place them with buyers, and send you absolutely fresh product that begins shipping in December. You will not get overnight shipment–because, again, this is a special group buy, not Amazon.
It's our 12th year doing this. It's our readers' favorite thing, and it makes us proud to put $1 Million annually in whole, disease-preventative plant foods in your pantry and freezer to get you through the winter in excellent health.
Oh, and we put all GreenSmoothieGirl products on Buy 2, Get 1 Free. You won't see this at any other time of the year. Even our BRAND NEW BlendBars currently in production…absolutely delicious raw, plant-based, organic nutrition, three kinds of "green smoothies in a bar!"
Green Smoothie BlendBar, Chocolate Dipped Smoothie BlendBar, and Pink Smoothie BlendBar Superfood Bar. They're super delicious, better than what you're buying now nutritionally AND taste-wise, too!
Only Group Buy customers will get special pre-release advanced ordering on these amazing bars!  You'll get the very first boxes to hit the warehouse, shipped with your Group Buy order when they begin processing in December.
Don't miss it! It's really over at midnight on Nov. 30.
When you order, I share my proprietary BEST RECIPES for some of these incredible ingredients. It's a recipe book we don't sell. It's just for our group buy participants, and it's called Robyn's Favorite Recipes. The AFRICAN stew to use the low-fat peanut butter powder–WOW! Nut mylks, sprouted almond snacks, delicious cookies made with our organic sprouted flax seed, and lots more.