GSG Coaches Share Healthy Cold-Weather Recipes, Part 3 of 5
This soup recipe, plus the chocolate frosting, is from Portland's Coach Debbie Tuttle, our resident chocoholic, so we couldn't include her without telling us how to get our chocolate in, without resorting to anything low-brow with a Nestle or Hersheys label!
Beans and Greens Soup
(adapted from David Gabbe's recipe, see http://davidsvegankitchen.com) One of my favorite cold-weather soups–hearty and deep-down nourishing.
4 cups water
4+ cups kale, chopped (or collard greens, bok choy, other dark leafy greens)
3 cups cooked navy beans or other beans
1 medium onion, chopped
1-2 carrots, chopped
1-2 potatoes, washed well and diced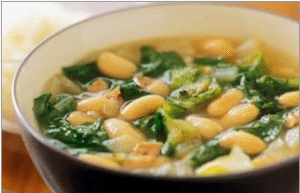 1 tablespoon toasted sesame oil
1 tablespoon dried parsley
1 teaspoon garlic powder
½ teaspoon sea salt
3-4 tablespoons red miso dissolved in 3-4 tablespoons water
(fork or wire whisk makes it easier)
2 tablespoons lemon juice
2 drops Lemon Essential Oil
2 tablespoons nutritional yeast
In large pot, combine all ingredients, except miso, lemon juice, and nutritional yeast.  Bring to boil over medium-high heat, reduce heat, cover, and simmer 30 minutes.  Stir occasionally.
Just before serving, stir in miso, lemon juice, lemon oil and yeast. Refrigerate leftovers and use within 5-7 days, or freeze for longer period.
Yield:  4-6 servings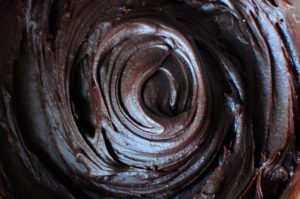 Fudge Frosting (adapted from Robyn Openshaw's "12 Steps to Whole Foods")
Perfect on GSG Beet Cake, both that recipe and this frosting recipe in Chapter 11!
1 cup unsweetened non-alkalized cocoa or raw powdered chocolate
2 cups coconut sugar, blended in dry blender container until "powdered"
¼ cup coconut oil
2+ Tbsp coconut cream, to consistency desired.
Cream together by hand until smooth.  I'd double it for a 9×13 pan, but then, I like a little cake with my frosting.  Leftover frosting will last in airtight container for a couple of weeks or more in the fridge.
Delicious variations:
Chocolate Peppermint Frosting–to one cup frosting, add 2-4 drops Peppermint Essential Oil and mix well (use of essential oil in foods is unique to high-quality Essential Oils that are not extracted with chemical solvents)
Chocolate Orange Frosting–to one cup frosting, add 4-6 drops Wild Orange Essential Oil and mix well.