Raw Pecan Brownies and Tomato Soup at the Coaches' Retreat!
Somehow I failed to post the best recipes from the GreenSmoothieGirl Coaches' retreat, last month in Park City!
The coaches have a lot of fun together. They are 18 women who love helping people learn how to live out their highest and best purposes on this planet, as healthy as they can be.
Coach Jeanette showed everyone how it's done, leaving the other coaches with their jaws hanging open. When she learned the  owner of Grappa's  health challenges, she left her with a protocol to address them–and left with a new friend.
(Coach Madeline did the same, when she functioned as my own personal shopper at Nordstrom when I bought a Gala dress for a convention after our retreat. Madeline told all three sales clerks about the power of plant-based, self-directed medicine and they were all giving her their card and clamoring to learn more by the time I had a pair of shoes to match!)
These 18 women love helping people get well so much, that they just can't shut up about it. They crack me up! We love to teach, and we love to learn, and we love to share. I absolutely love my associate with them and am so blessed to have them, and about 60 Senior apprentices, and hundreds of GSG apprentice coaches, as my friends and colleagues.
My very dear friend Melinda Slater made the food for the Park City retreat. Of course we had lots of 12 Steps to Whole Foods favorites. The ever-popular Hot Pink Breakfast Smoothie featuring raw beets and carrots, to start one day, and some other yummy stuff.
Here are a few recipes I hope you'll enjoy, today and in my next blog. The Raw Pecan Brownies are so decadent you would call anybody a liar who told you it's made with whole foods! And the tomato soup is fabulous if you have any left from your garden. I'll have more of our Coach Retreat recipes for you in my next post!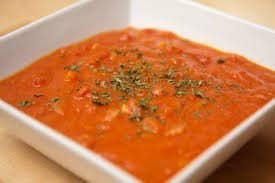 Tomato Soup (or Sauce, wonderful over spaghetti squash or pasta)
3 1/2 lbs tomatoes
1 small onion, grated
2 cloves garlic, cut in half
1 tsp. Original Crystal Himalayan salt
1/4 tsp. pepper
2 tsp. dried thyme
8 leaves fresh basil
2 Tbsp extra-virgin olive oil
Optional: sautéed, chopped portobello mushrooms, zucchini, yellow squash, onions
Place first 3 ingredients in 9×13 inch pan (or bigger if you have one). Broil at 400 degrees for 25-30 minutes. Let cool and put all in blender; blend until smooth. Add salt, pepper, thyme and basil and blend. Pour into bowl for serving, and optionally add sautéed vegetables. Serve as a soup, or as a sauce over cooked spaghetti squash or whole-grain pasta.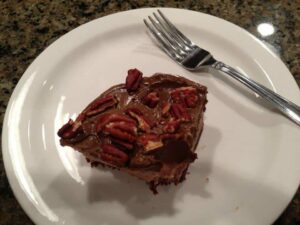 Raw Pecan Brownies
Brownie layer
1 c almonds
1 c walnuts
1 c soaked dates (overnight)
1/4 tsp sea salt
1 tsp vanilla
1/4 c cacao powder
Pecan pie layer
1 c soaked dates (overnight, then rinse)
1 c pecans
1 large banana
2 tsp maple syrup
1 tsp cinnamon
1/8 tsp nutmeg
Chocolate layer
4 ripe avocados
1/4 tsp Original Crystal Himalayan salt
2 tsp vanilla
1/4 c maple syrup
2 Tbsp coconut oil
1/2 c cacao powder
Hazelnut stevia sweetener (optional)
Pecans for topping
Process layer ingredients in food processor until crumbly. Press into the bottom of oiled pan. Blend pecan pie layer ingredients until smooth, and spread the layer on top of brownie layer. Blend all chocolate topping ingredients in blender and blend until smooth. Spread on top of pecan layer. Cover with chopped roasted pecans. Cover with plastic wrap and freeze. Cut into squares and store in freezer.