It was a healthy Halloween!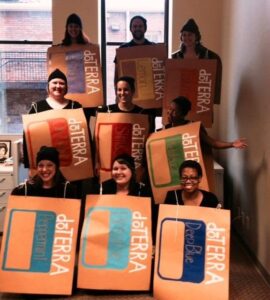 I adore Megan Reeves, our Nashville Senior Apprentice Coach. She is pure sunshine and light. Everyone loves her. She texted me a photo on Halloween of her whole office dressing up as a doTERRA Natural Solutions kit! I asked her to write me the story of the photo. Enjoy!
Megan and her colleagues are coaches who help people make meaningful life changes, and they LOVE having plant-based medicine on hand to solve their own problems, rather than wait in doctor offices for expensive, toxic solutions. (Let's use the toxic solutions only when we've tried the natural ones that work with our body's natural defenses!) Contact Megan at meganlreeves@hotmail.com for your own Natural Solutions Kit.
From GreenSmoothieGirl Senior Apprentice Megan Reeves in Nashville:
When Green Smoothie Girl first introduced me to the doTERRA line of therapeutic essential oils a year ago, I had no idea that I would, first, fall absolutely in love with them. Or two, that they would spread like wildfire around my office.
In fact, they are so popular that bottles of oil are on everyone's desk and one team even surprised us on Halloween by dressing up as the Family Physician kit! Not a day goes by that someone isn't taking a "flu-bomb" to kick an oncoming cold…diffusing Breathe to combat allergies…or using peppermint to uplift their energy level or reduce that 3 pm sugar craving!
We are a mission-driven, higher education company that assists students in preparing for school, getting the most out of their education, and reaching that big milestone of graduation through one-on-one executive style coaching meetings, paid for by our partner universities.
Our employees are the most bright, dynamic, and amazing people I've ever worked with. It's no surprise that as a coach, you would always be driven towards the best solutions and options in every area of their lives. doTERRA'S natural medicine is a perfect fit for this group to stay healthy, happy, and empowered as they change the lives of students every single day.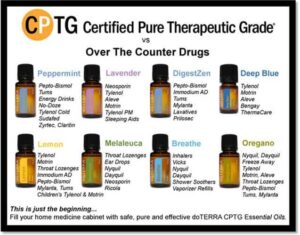 I have to say a tremendous thank you to GreenSmoothieGirl Robyn, and Coach Jeanette, for introducing me to these amazing products and teaching me how to coach others towards better health decisions on a daily basis.
We have all had the experience of family members or friends with auto-immune disease, chronic sickness or fatigue. Most of us now have cancer in our lives, someone close to us. Our healthcare system is failing us.
It is critical that we are empowered in alternative medicine and options to keep ourselves healthy through a clean plant-based diet, fitness programs that works for us, and chemical-free medicine.
Personally I have had tremendous healing experiences with the oils – physically, emotionally, and spiritually. Not only do I feel great and look better than ever, but I also receive the immeasurable intrinsic benefit of knowing that my team and I are part of the health revolution. We share knowledge and doTERRA products in our classes, with our coaching clients, and even with perfect strangers that we run into everyday with various health needs.
Just yesterday I was able to use the "Past Tense" roll-on blend to take away my property manager's painful migraine. Now that is a really cool way to feel like you make a difference every day. If you are interested in joining my team or getting your own Family Physician kit, please email me meganlreeves@hotmail.com. The GSG apprentice coach application is HERE.
doTERRA's Family Physician Kit is a collection of ten nurturing essential oils, including six single oils and four oil blends that will enable you to treat "life's little emergencies" without the side effects of synthetic drugs and become a healer in your own home.
The comprehensive box includes tips for using the oils, an audio CD featuring doTERRA's Chief Medical Officer, Dr. David Hill, who teaches you how to care for your family's everyday health needs with simple and safe methods using the starter kit that everyone needs!