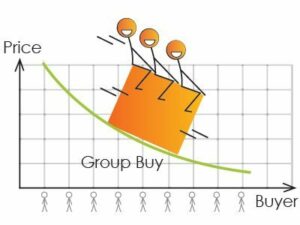 #1 question we get at GSG is, "Are you doing the Group Buy this year?" I've been doing the group buy for a year longer than I've had the GSG site up—7 years! It was wildly popular, locally, so now we ship pallets of hard-to-find, great deals on whole-food pantry staples all over the U.S.
And starting this year, we are offering foods in 25# boxes so that you can stock up on all of your favorites!
It all started because we couldn't get truly raw (unpasteurized) almonds in the retail stores. (You still can't!) Then we added other things like extra virgin olive and coconut oils, raw coconut sugar and agave, and other nuts and seeds. Then the GSG nutrition products that have been incredibly popular since they came out a year ago.
How do you stock up for FREE on a year's worth of nuts, seeds, unprocessed sweeteners, cold-pressed oils, GreenSmoothieGirl nutrition products, and other awesome stuff? Be a buying club Coordinator! Use our handy Coordinator Worksheets to organize your order, and mark up products (by collecting and distributing orders, you've earned it!). A 1,000 lb. order is easier than you think to gather, and it gets you FREE SHIPPING. Or pay no shipping if you pick-up your order at our warehouse in Orem, Utah. To find others in your area that are interested in going together on a large order, you may post in the GROUP BUY FORUM.
Check out what's available in this year's Group Buy.  Read the Group Buy FAQ and start planning your order. Group Buy ends November 30, 2013. Orders placed by October 31 begin shipping November 4. Orders placed by November 30 begin shipping December 2.
GreenSmoothieGirl brand products in the group buy are 3-packs of Buy Two Get One Free. It's a great time to try these out—fabulous food storage items and whole-foods pantry staples for people serious about their health.
Contact customer support with any questions at support123@greensmoothiegirl.com. But first read the Group Buy FAQ!  Remember that if elect to pick-up your order, do NOT go to the warehouse until we email you that we're ready.
We're excited to get another million dollars' worth of low-cost, nutrient-dense foods into U.S. pantries, to keep our families healthy and happy! This is not a for-profit activity for GSG, but rather a service that my readers love, so we continue it!  Help make this available to people in your neighborhood who are looking for ways to feed a family on a budget!