Healing Stories About Essential Oils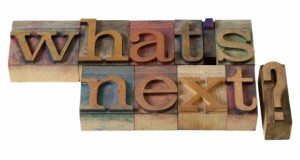 Recently, I have been looking back at the wild success of promoting green smoothie love when I put this site up 6 years ago. Then I look forward and ask:
"What next?"
My observations in doing 50 to 75 lectures in North American cities, annually, and meeting thousands of people, are a few things:
People need to be led further down the path to health and wholeness. We cannot stop at green smoothies.
We need to help them take NEXT steps, nutritionally, beyond one great habit.
80 percent of health issues resolve with good nutrition. But people need more. They need empowerment, and solutions, so they don't default to pharmaceuticals.
My points #1 and #2 are addressed by12 Steps to Whole Foods. If everyone lived this program–the comprehensive download of how I lost 70 lbs, resolved 21 health problems, and saved my baby boy's life—a major share of the hurt in the Western World would disappear.
To address #2, in the past year, the GSG coaches and I have also embraced the essential oils lifestyle. Over a month ago, we put up a resource on the site to share the powerful experiences we've all been having with this company's arsenal of the most powerful organic healing essences from plants, world-wide.
The 600 stories that poured in, from our apprentice coaches, have been so fun to read, so mind-blowing in their wide-ranging possibilities.
Read Essential Oil stories where the GreenSmoothieGirl apprentice coaches have told us their successes with specific oils, and oil blends, for "life's little emergencies." You can read new ways to use essential oils you may already possess. You can search by what oil you want to learn about.
You'll learn about solutions for everything from toothache to emotional trauma, that WORK.
Would you like to share your own healing story using essential oils?
Be my guest! Post your stories. (GSG apprentice coaches are allowed to post their contact info as well. But anyone can post a story.) Thanks for helping us build a great resource that will help others!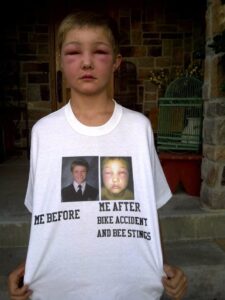 My most recent really amazing experience, regarding essential oils. My son Tennyson was stung by a wasp 2 years ago and his face blew up. He was unrecognizable. A youngest child, his older brother teased him and others stared. I made this t-shirt for him to go to a brand-new school the second day.
(He was mortified to show up looking like a puffer-fish. I let him sit out the first day. But his face looked like this for a WEEK!)
So recently, Tennyson was mowing the lawn and ran over a hornet's nest. Three wasps stung him simultaneously! Check out what happened, because I immediately applied Frankincense and Lavender oil. An hour later all three stings looked just fine! No swelling, and the redness had not spread.
Unfortunately, because he felt great, I let him hop in the city pool down the street from us, an hour later. He did have a little soreness after a few hours, and I popped in the front desk of the pediatrician's office and asked the nurse what she would do. (Predictably, her only suggestion was Benadryl.) But Tennyson was fine–no crazy allergic reaction like last time!
Score a hit for PURE ORGANIC ESSENTIAL OILS!

Learn about our apprentice coach opportunity HERE.
Tell your own healing with essential oils story.