Stand up to GMO Frankenfoods (no Cheerios for babies!), part 1 of 3
John Roulac and I met at Expo West this year. He's the founder of Nutiva, and also has the web site GMOInside.org. It's a great site to get educated, and get involved.
John is fighting a battle to inform people that General Mills, Hershey, Kashi and many others are putting lots of genetically modified ingredients in their products, including Cheerios which many people use to entertain and feed their babies as they learn how to eat.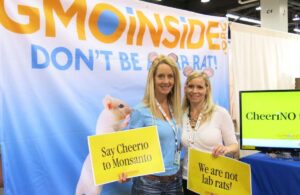 This photo is Coach Jeanette and me, wearing lab rat ears, supporting the battle to educate the world that General Mills cares about profits, not people, so their foods are to be avoided. DON'T FEED BABIES CHEERIOS. They're easy for Baby to pick up and eat, but they start the gut deterioration young, as Cheerios is chock full of GMO and hybridized ingredients.
I dig people like John who speak out to save everyone else. To save the ones who don't know. Most people are mindlessly putting frankenfoods in their mouth and feeding them to their children. John Roulac is a hero, and with him and others such as Grant Lundberg, whom I interviewed HERE last year at Expo West, I want to help educate the world about GMO foods and advocate for food labeling so we KNOW WHAT WE ARE EATING. My next blog post will feature a video I did with John, this year.
Corn, soy, sugar beets, and canola oil are now virtually always genetically modified, which is linked to leaky gut syndrome, allergies, and many other skyrocketing modern health problems.
(Many people think wheat is GMO. It isn't. It is hybridized, which is a different issue. Also bad. Wheat was hybridized many generations to increase the wheat protein GLUTEN for fluffier bread. Now most, if not all of us, are "gluten intolerant," which means we have food sensitivities, gut inflammation, and autoimmune issues from eating unnaturally excessive gluten proteins.)
Next post, my short video interview with John Roulac.