12 Steps Premium Course Releases!!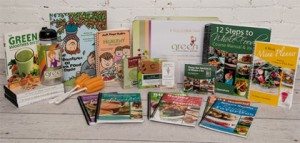 At long last! The entire suite of GreenSmoothieGirl information products, in one beautiful box!
The Premium Course is finally available, and you save $164 this way. Look at this beautiful PHOTO of what's in it!
The 392-page, full-color, fully indexed 12 Steps Manual. A digest of all the best practices in nutrition, and recipes to complement those habits.
Lots more videos to educate you in your shift to a whole-foods diet. Most cannot be found on YouTube or anywhere else. A six-part tour of a health food store (what to buy, what to avoid). A tour of my pantry, fridge, freezer, and food storage. Lots of demos. 49 videos total, more than the 28 videos in the Standard Course!
Audio CD's to listen to, in the car or on your iPod, about the principles in the course.
My two children's books: the storybook The Adventures of Junk Food Dude, and the companion recipe book, Junk Food Dude's Yummy Healthy Recipes.
Our readers' best stuff, Readers' Faves Volume 1 and 2, so you always have great recipes to amaze those you cook for with how fabulous healthy food is.
And my four other recipe books in print form: 101 Healthy Lunches, Robyn's Family Favorites, Big Book of Green Smoothies, and Healthy Holiday Favorites. A total of over 1,000 fabulous recipes.
Vouchers for a sourdough bread starter, kefir grains, and a vegetable culture, so you can learn to make living, cultured foods to support gastrointestinal health.
My 12 Steps Meditations to accompany you each step of the way, to emotionally and psychologically heal the wounds that cause us to make poor choices and sabotage our health. Listen to them daily to allow good  habits to become second nature—clear choices to honor the only temple for our spirit we'll ever have.
A beautiful, BPA-free green smoothie bottle that holds more than a quart a day, plus a brush for home, another for work.
Not all of these pieces are even available separately. Some are available exclusively in the Premium Course. But their combined value is $164 more than the $349 LAUNCH SPECIAL price tag. If you've been wanting 12 Steps to Whole Foods, to undertake a dramatic transformation to be your very best self, now's the time!