Coach Cathi and the Cute Cupcakes
This here is Cathi Waalkes, our Certified GreenSmoothieGirl Health Coach in Michigan. She is one of our most passionate, and most successful coaches, so far, just 6 months past her certification. She was just able to quit her full-time job in order to focus on building her GreenSmoothieGirl coaching business and is thrilled for the career shift. She loves teaching about plant-based nutrition, and how it radically changed her life. (She's now known for riding her bike 50 miles, in her 50's, and she lost 30 lbs. on her whole-foods journey and looks amazing!)
Cathi's also an expert on plant-based, self-directed medicine, and she specializes in teaching our Medicine Cabinet Makeover and Healing with Green Smoothies classes in Michigan, Ohio, Kentucky, and Canada. Check out her upcoming classes HERE, as well as other classes taught by our other coaches all over North America.
In this photo, Cathi's just taught a class with 110% attendance in Cincinnatti. Maybe that's because she let everyone know in advance that this lovely baker, Chef Tracy of Tres Belle Cake and Coffee house (the host of the class), made my Chocolate Beet Cake for everyone at class, as cupcakes.
(Chocolate Beet Cake is in the dessert recipes in 12 Steps to Whole Foods.) Cathi wrote me, "By the time we took this photo, most of them were gone! They were a huge hit and everyone was surprised how moist and delicious they were." Tres Belle will now make them on special order.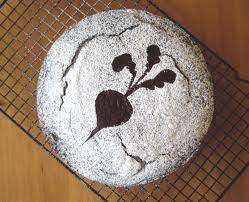 As the title implies, the cupcakes have BEETS in them, but you wouldn't know, and of course, all the ingredients are whole foods. This recipe is a favorite of Coach Debbie's in Portland too, an avowed chocaholic. ("I will eat whole foods, but I must have my chocolate every day!")
If you want to join us in this wild ride—that has Cathi quitting her job for something far more fulfilling (just ask her!)—fill out the apprentice coach application HERE. If you live in Michigan, Ohio, Kentucky, or parts of Canada where Cathi's working, we'll hook you up with her.
If you live elsewhere, I'll introduce you to one of our other amazing coaches in your area. We have 15 coaches nationwide, and they are all phenomenal women I'm blessed to work with. In the future, if we take on more Certified coaches and do the training again, we will choose them from our Senior Apprentices.