Drinking and driving: ideas on traveling
We flew into Columbus, Ohio. We then drove through the beautiful foliage in Michigan, Canada, New York, Massachussetts, Pennsylvania, Maryland, and Virginia.
In each of 10 cities, we grabbed whatever was left of the gallons of green smoothie we served our audiences. After the lecture, we'd put them in the fridge in our hotel rooms. Sometimes just leave them in the car when we didn't have a fridge in our hotel room. Or we fill a trash can with ice in the hotel room, and tossed the gallon in there.
(Other times when I travel, I take frozen pints of green smoothie, bagged and wrapped in my jeans, in my suitcase. Those will last a few days at the most, carefully managed, if you have a fridge where you're going. Warning: defrosted green smoothies don't have a good texture!)
Kristin snapped this photo of me "drinking and driving" in Michigan.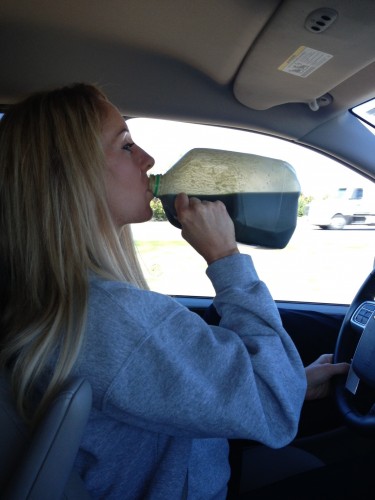 Green smoothies are just one way I keep my energy high on a trip. I saw a woman with a green smoothie in the New York City subway. She told me where she bought it, but I forgot. The point is, look around where you are, and you can find good stuff. (We went to Pure Food and Wine in New York City once, too, on this trip—my favorite raw restaurant on the planet.)
Kristin and I are constantly finding the closest Whole Foods Market on our travels. They virtually always have a great salad bar. We load up, and it is our ONE big meal, in a day, along with an herbal tea or kombucha, and a treat (made with no sugar, and only whole foods).
Then we find a Starbucks for the WiFi and find comfy chairs. I prop up my iPad, Kristin opens her laptop, and we work all day till our class starts. A guy walked past me, with my Whole Foods Market box-o-salad, which I confess cost me $13, and said, "We call that Whole Paycheck Market."
Maybe. But I'm pretty sure his latte just set him back $4. And for what gain?
The rest of the day, on the run in our travels, we have green smoothies, flax crackers we brought from home, dried plums or apricots (favorites of mine). The point is, drive-thrus aren't inevitable, even if they've been your "normal" up till now.
We also look for Sweet Tomatoes or Soup Plantation nearby. We pull up all the restaurants in the area on the Garmin GPS we travel with, and we scroll through them until we find a place with great vegetarian options, and good salads—salad bars being our favorite.
In my hometown of Springfield, Virginia, near our last lecture in the tour, I went to find the house I grew up in, and took this picture. The lovely woman who has owned the home for 20 years asked me if I wanted a tour and of course I said yes.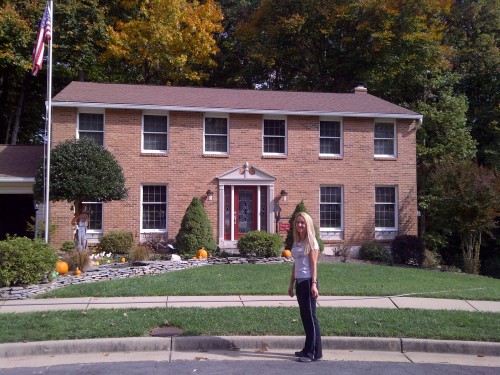 What a flood of memories to walk through the home I spent many years of my life in. The spot in the basement I'd make out with my boyfriend after my parents went to sleep. The forest behind the house where I'd run to escape my six brothers. The tiny bedroom where I did countless hours of homework.
And just a few miles away is a 25-year old Whole Foods Market with a teeny little salad bar. In high school, I bought nachos at the 7-11 across the street, instead. (It's still there, too.) Now, I am smarter. I make better choices. I think about the future and the things I want to accomplish and which fuels will send me the right direction.
I take green drink on my trips. And a bag of chia seed. I mix both in a pint of water when I wake up in the morning, in any hotel room.
And we're super excited to have our own three drink mixes launching right now. We're taking group-buy orders with BUY TWO GET ONE FREE. I formulated these to have phenomenal nutrition in drinks that even kids will love, that appeal to the tastes of those on the Standard American Diet. One scoop has the antioxidant equivalent of 20 servings of greens and fruit!
And I added probiotics, plant fiber, and digestive enzymes. Internally, we call them Greens, Reds, and Chocolate Greens. But their official name?
They all have different ingredients, all phenomenal power-food ingredients, and all delicious. Your kids will honestly think Red Light is fruit punch. But it has NO sugar, and all whole-foods ingredients. Beets, ginger, carrots, turnips, even turmeric. Plus kale, chard, and cabbage.
And my kids go find the Chocolate Greens and make it for themselves. Everything else that is highly nutritious, I have to make it for them and stick it in front of them. And guess what Chocolate Green Light has in it? Carrots, barley grass, spirulina, broccoli, spinach, cauliflower, parsley, chlorella, and collards. And lots more whole-foods ingredients. Green Light, too, is delicious and full of those same greens, plus fruits and vegetables. You will be amazed!
Enjoy!