Back to certifying 15 coaches! Part 3 of 4
We all took the Sundance chair lift and hiked down in the explosion of Fall colors and perfect weather. Early the next morning, we took another sunrise hike to Stewart Falls, another favorite part of my favorite place on Earth. It's in Provo Canyon, where A River Runs Through It was filmed. (Brad Pitt starred with Robert Redford, who owns Sundance and directed that movie. I often see R. Redford skiing. He is shorter than I am!)
We saw wild turkeys and deer and…..oh, wait, let's talk about training, and the 15 new GreenSmoothieGirls!
Half my coaches have one or more advanced degrees. Some are converts from their careers inside the traditional medical field. Several are certified as health coaches from other organizations. Some are raw chefs. Some are competitive athletes.
All are totally dedicated to not only their own high-nutrition, healthy path, but also teaching it to others and nurturing those of you blessed to learn from them, on the journey.
I've got a coach (Cyndi, near St. Louis) who is raising triplets on whole foods.
I have another (Abby, Nashville) with Ivy League credentials who is already working full-time in nutrition education and adopting a baby from Taiwan.
I have two San Diego coaches. One helped her husband live many years past doctors' predictions when he was diagnosed with colon cancer, and she said goodbye to him only two weeks before our certification course (Kathleen).
The other (Jeanette) is a very knowledgeable naturopath who was once diagnosed with most of the very worst auto-immune conditions (Lyme's, diabetes, Crohn's, and more) and was unable to get out of bed, in her 20's. She was told she was unlikely to live more than a few weeks. Now she is a beautiful runner and has the youngest child known to have completely reversed autism.
I have a Hallelujah-Acres certified health coach (Karen, Delaware) who tattooed a green smoothie and whole plant foods on her lower back!
Nicole in New York is a certified aromatherapist (a passion all the coaches and I share—helping people heal with plant biochemistry, as well as nutrition) and lost 50 pounds following 12 Steps to Whole Foods.
Debbie in Portland says she felt she couldn't be the mom she wanted to be, because of low energy, but is making up for it with her grandchildren now that she's learned how to eat.
Likewise, Jennifer from Utah, a nurse, told us "I lost years of my children's lives, because I was flat-lining." Now, even though she's a single working mom, she has her life under control and is healthy and fit.
Sarah, my overachieving Texan, did 12 Steps to Whole Foods in about five minutes instead of a year, when the epiphany occurred for her, relative to her gut issues, and her young son's struggles:  the food we eat influences more than just our weight on the scales.
Allison, completing her second master's degree (in Dietetics and Nutrition), beat brain cancer with whole foods and frankincense essential oil used in several ways. She knows that application of the whole foods lifestyle we teach, rather than some of the corporate-sponsored content taught her in grad school, has a far higher impact on helping real human beings achieve real wholeness.
Dr. Mariza (in the Bay Area) and Dr. Barbara (in Ft. Collins) know that chiropractic adjustment is helpful and healing, but nutrition has to be the core of patient education.
Madeline from Indiana is our oldest coach with a long-time commitment to eating raw foods. She is my role model, because I want to look like her – and maintain outstanding health to travel, golf, volunteer like she does — when I am 68 years old! Her knowledge of raw, plant-based nutrition, and holistic health strategies, exceeds my own, I am pretty sure!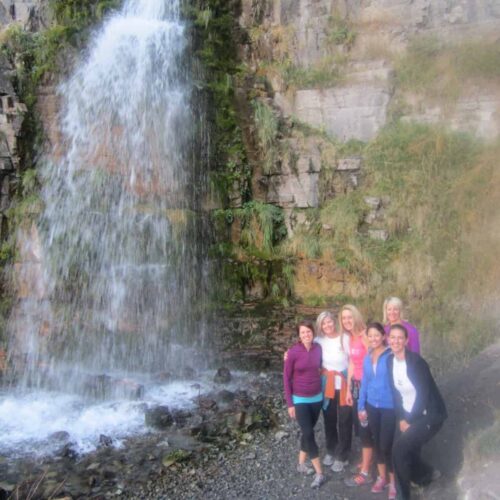 And Cathi in Michigan became a lights-on wife instead of a lights-off one when she lost 30 lbs. and became a distance cyclist in her 50's, and an IIN-certified coach, and credits her 12 Steps to Whole Foods lifestyle. She's another role model to me—we all need them, and I love Cathi's energy and inner beauty radiating from inside out!
Amanda is our nearly fulltime event planner who is going to teach in Boise because it's too far from everyone else! She's an avid 12 Stepper who was committed to sharing with others even before it became her job.
They blew me away with their willingness to train for long hours, help at my classes, and even stand up in front of us to speak and then receive feedback from me, Laura Jacobs, and their peers.
It was an intense several days. But I couldn't be more excited to see these women start to fly.