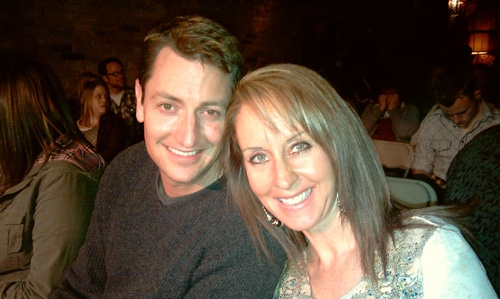 I went to this concert with my BFFs Kristin and Matthew.  Katie Thompson is a Broadway singer / songwriter who was in town doing a concert and album launch party. We were on the front row. (Here's a photo of Matthew and me.)
Kristin and I sat there with our jaws dropped from beginning to end. Enjoy a couple of Katie's songs (or more on YouTube, and for sale on iTunes) here and here.
Matthew hosted an afterparty at his house and we were out way too late. I asked Katie to participate in my Lillith Fair of Health and Wellness that I'm organizing with a NY Times bestselling author and a fitness guru. She's in! She said she'd write a GreenSmoothieGirl song. More info to follow…I can't wait!
Write me a paragraph about why you are a green smoothie girl (or guy), or what rocks your world about 12 Steps to Whole Foods. And I'll send the winner the two Katie Thompson albums I bought for you. Send it to support123@greensmoothiegirl.com.
Whoever tells me the best stuff wins, and I'll post the winning entry here. (Make sure to include your physical address so I can send you the CD's!)